Super Mario – Wii Tournament Party
---
If you're a fan of Super Mario and playing video games, you're going to love this next party!
For my godson's 10th birthday, he insisted on having a Wii tournament. Big surprise! What boy doesn't love video games? After going back and forth, his final game of choice: Mario & Sonic at the Olympic Games.
For me, both Super Mario and Sonic bring back memories of frustration and failure. 'Til this day I am upset that I could never reach the flag at the top of the castle! No matter how hard I tried, the closest I ever got was halfway up the flagpole! This is a true story.  Come to think of it, I don't think I have ever passed the second level of either game.  After many years of attempting (unsuccessfully) to find a video game I can play well, I'm finally happy to admit I am NOT a gamer.
Despite my failure at video games, I am not one to ruin someone else's fun. I was more than happy to take on the challenge and put together a fabulous Super Mario Wii Tournament Party!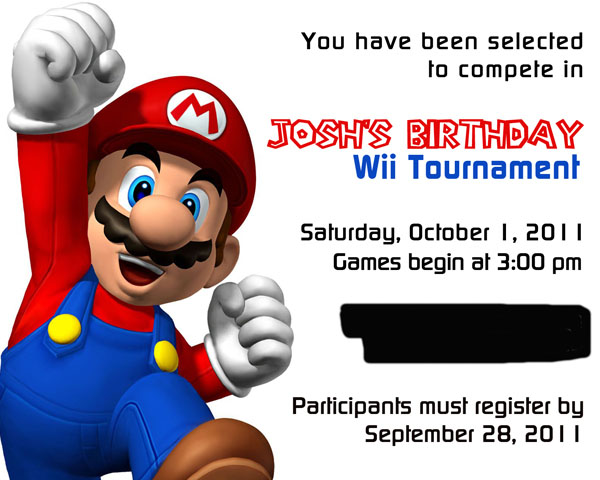 We began by creating a very simple invitation using an image of Mario and special mario and wii fonts i found on dafont.com.  These invites were attached to a chocolate Wii Remote. What a way to get the kids excited! Unfortunately I was unable to photograph the final packaged invitation.
The contestants were greeted at the front door with a sign directing them to their wii tournament.  As you can see the sign quickly sustained injuries as the boys rushed upstairs in their eagerness to play.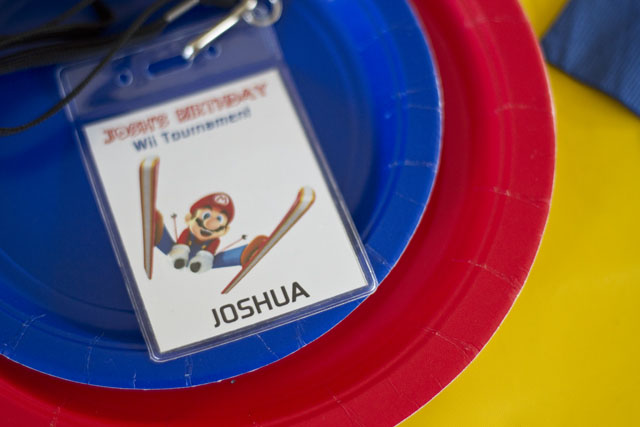 At each place setting the boys were given a personalized competition name badge.  Originally we wanted to create their very own Mii character, but we decided it would be too difficult since the only way to make it was on the day of the tournament. Rather than take up their play time, we opted to use characters from the game instead.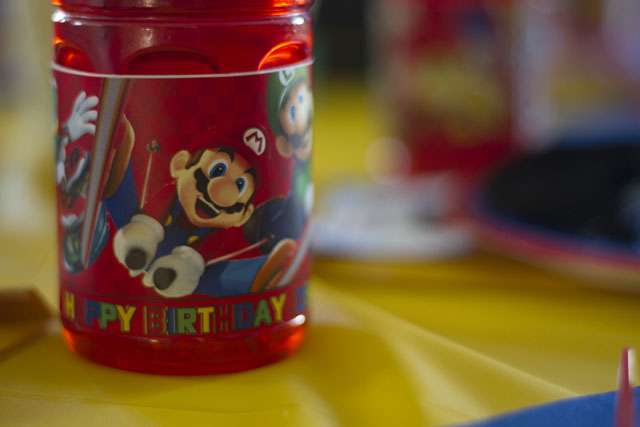 Additionally, the boys were given personalized juice bottles that said "Happy Birthday Josh". You can't see it from this photo but their names were also written on the side.  No wasted drinks and perfect bottle for refills!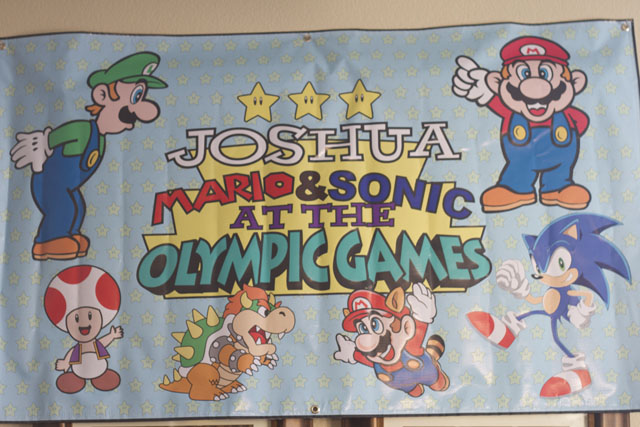 As mentioned on our previous post, this banner adorned the wii tournament area.  It was the perfect backdrop to get the kids excited for the competition!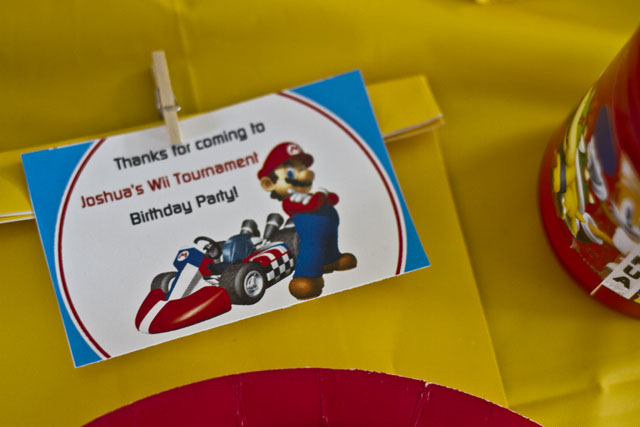 These bags were created for the boys to take home treats from the dessert table (special post coming soon!).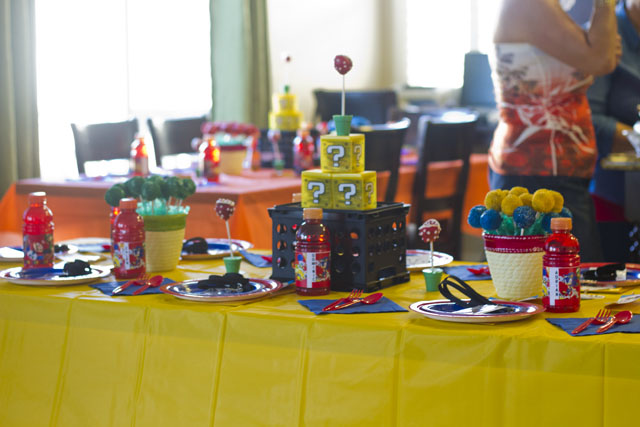 Each table consisted of cake pop centerpieces, piranha plants, candy filled question boxes, personalized name badges and juice bottles, and take home treat bags. We wanted the tables to be full of color and personalized for each guest with a focus on super mario brothers.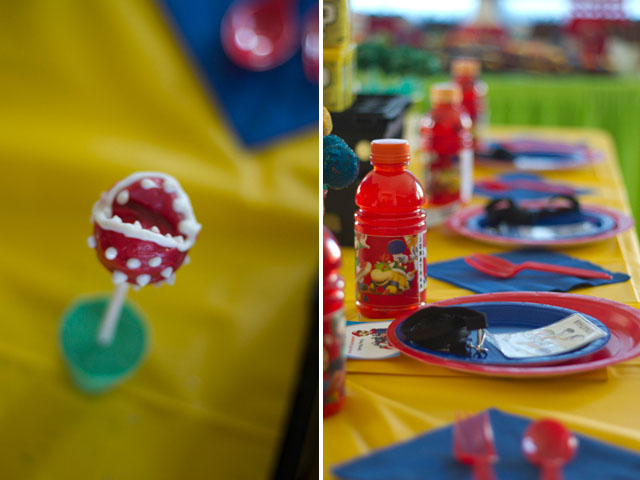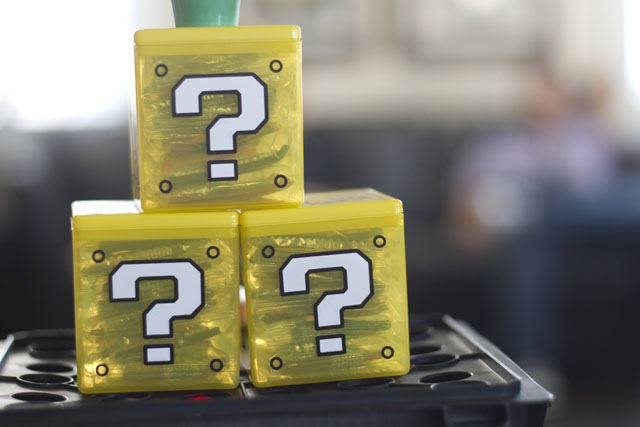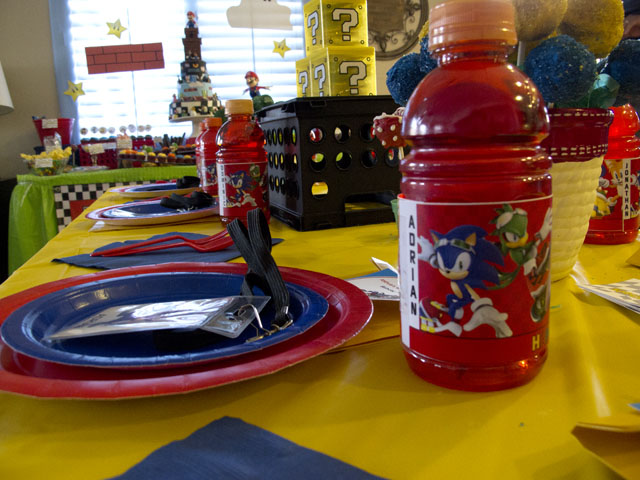 Now for what you all have been waiting for: the Wii Tournament!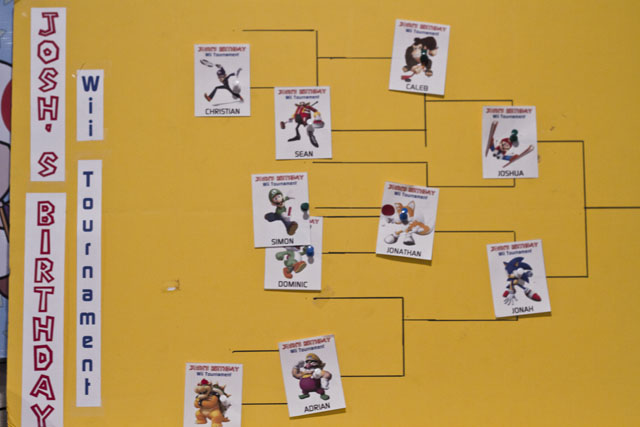 We made a tournament bracket using a copy of their name badge to mark their position on the board.  The tournament rules were simple: the person with the best out of 3 games moves on to the next round.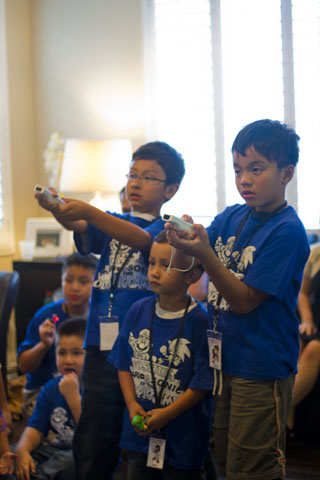 See how focused our little competitors are!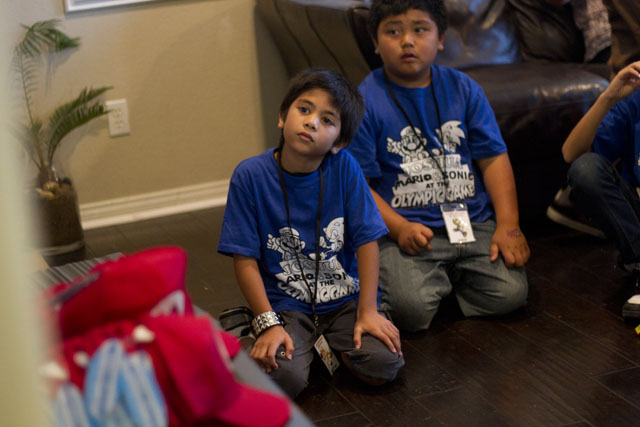 Even as they watch from the sidelines their eyes are fixed on the game.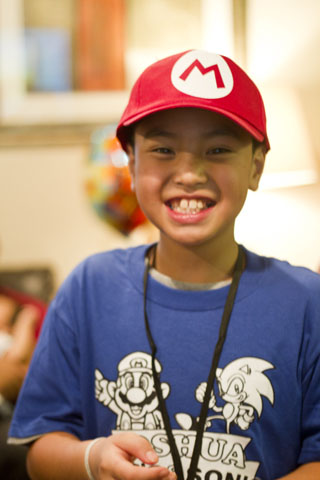 In the end the birthday boy won! Seeing his face light up with joy on his 10th birthday was just priceless. The perfect ending to an awesome birthday party.
Thanks for letting your "ninang" (godmother) take over the house and dress it up for this special day. Blessings for many more birthdays to come!
*******
Vendors
Paper Goods / Invitations: Love Every Detail
Fonts: Dafont.com
Cake Pops & Piranhas: Piece of cake
Custom Banners:Impact Graphics
Custom T-Shirts and Hats: Jah Screen