"Give Thanks" Dessert Table
---
Thanksgiving is just around the corner!
In preparation for the holiday feast, Love Every Detail and Piece of Cake teamed up to create a simple dessert table you can recreate at your own family party. This table is filled with semi-homemade goodies and display items found around the house.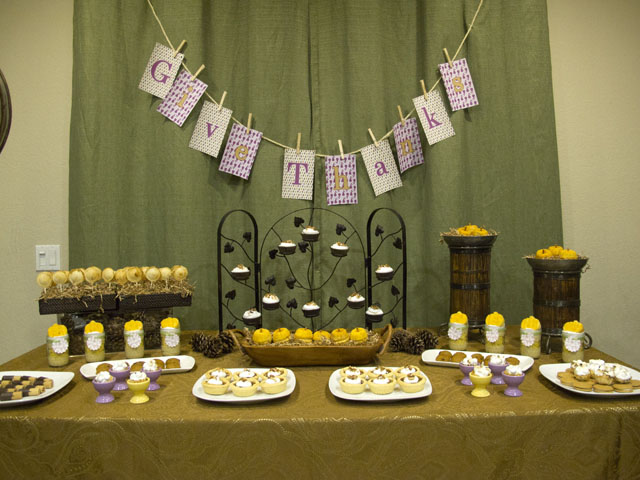 First off, the backdrop: We utilized the existing window curtains and worked that into our color scheme.
Table Linen: You don't need to go out and buy table linen just for your dessert table. Look around the house for window coverings, bed spreads, blankets, etc., anything big enough to cover your table and something you don't mind getting a little dirty.  It is the perfect opportunity to get a little creative.  This particular table cover was recycled from last year's Thanksgiving dinner.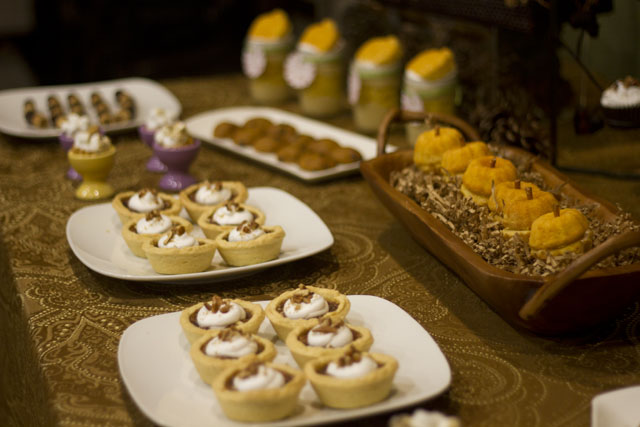 Platters: Look around you own cupboard for simple plates. By carefully plating your desserts it will bring your table design up a notch.
Wicker or wooden baskets are bountiful this time of the year.  Add some paper shreds and a dessert and you can really make a statement.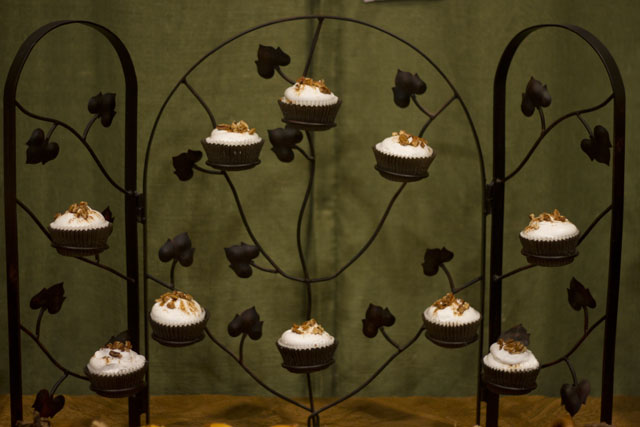 Cupcake Display: Do you have a tealight candle display around the house?  This particular display has been sitting in my mom's house for years collecting dust.  We removed the candles and replaced them with regular sized cupcakes.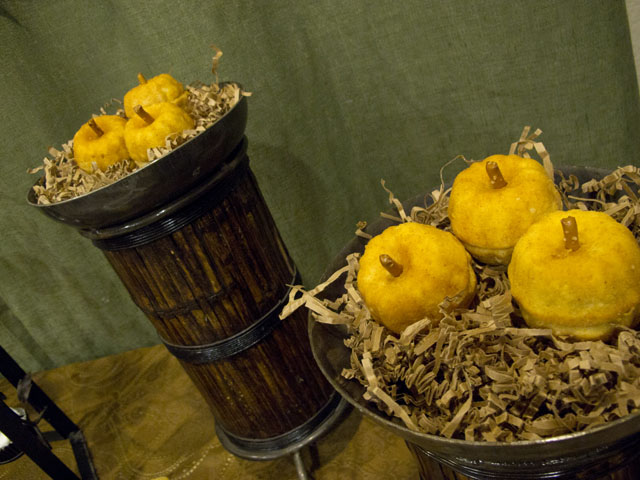 Dessert Display: Do you have any block candle decor at home too? This is another treasure I found at my mom's house.  We removed the block candles, added paper shred, and topped it with cute pumpkin desserts for a dramatic look.  If this was a bird or owl themed table, these decor pieces would be perfect!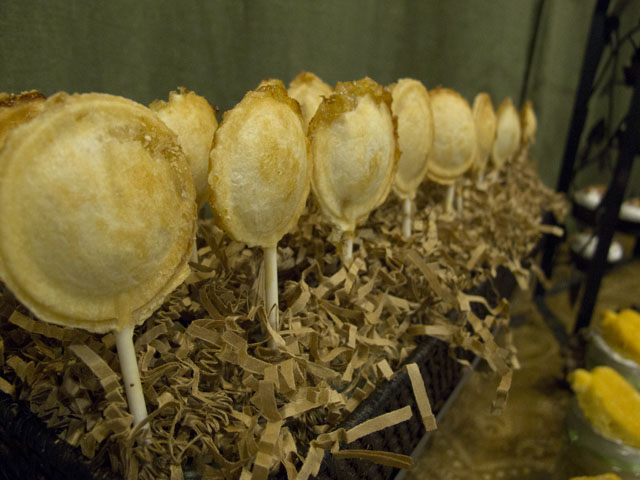 Dessert Display: Have any wooden trays around the house? You can easily wrap that with decorative paper to match your table scheme and use it as a cute dessert display.  We added some foam and covered it with paper shred (I think paper shred is my new best friend after this dessert table!) and stuck in some delicious apple pie pops.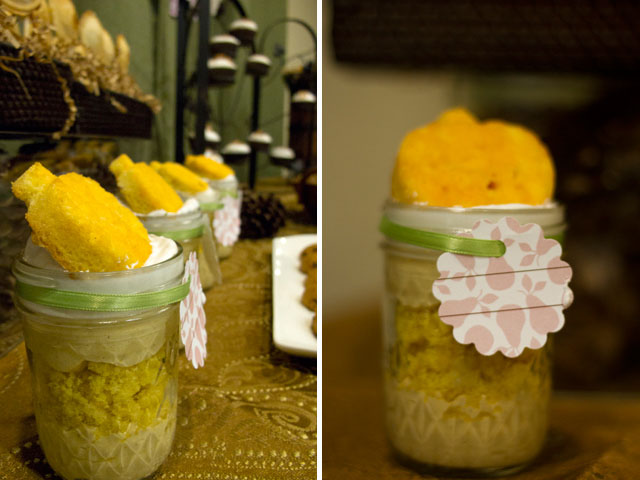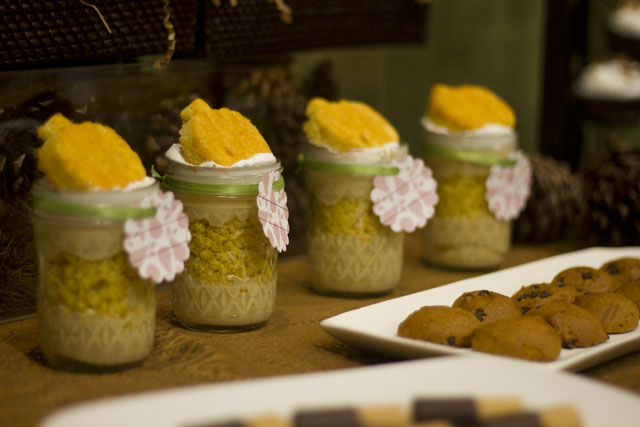 Abby created these delicious pumpkin mousse trifle with gingerbread crumbs topped with pumpkin shaped cake bites in beautifully textured mini mason jars. You can fill these inexpensive jars with any pie of your choice (store bought or homemade) and add some whipped cream for topping. Voila, instant dessert!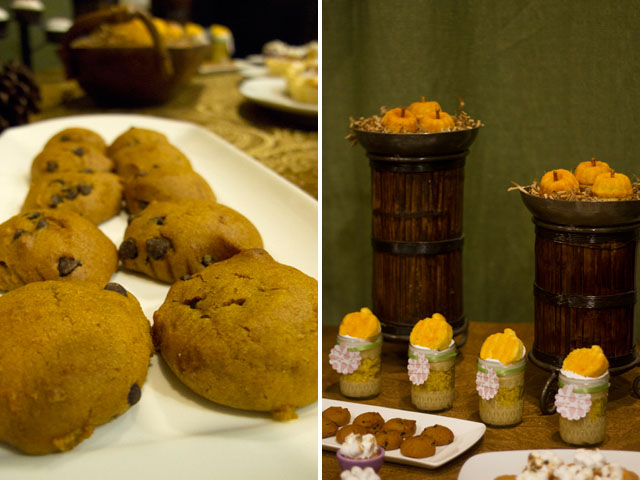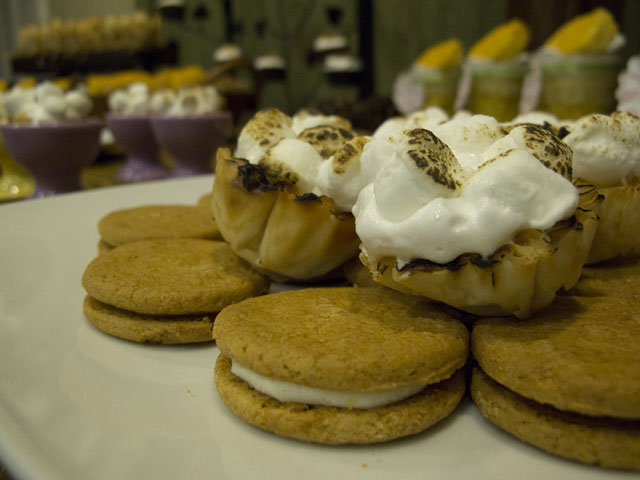 Pumpkin Chocolate Chip and Ginger Lemon Creme store bought cookies adorned the table for a more casual treat.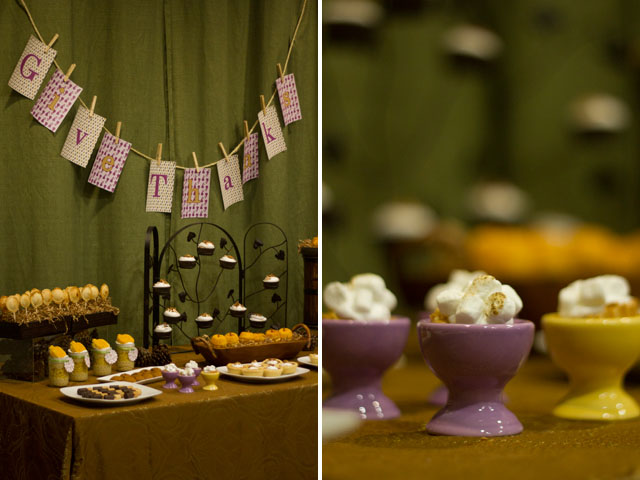 Pumpkin Cheesecake Tarts with torched marshmallows were placed in purple and yellow Easter egg holders (on sale at Kohl's for $1.99) and atop the ginger lemon cookies cookies.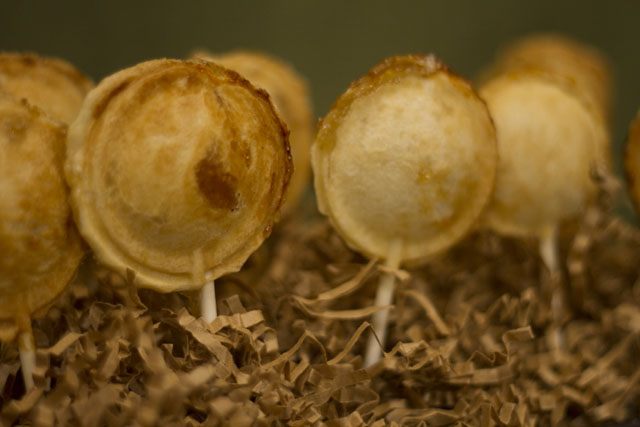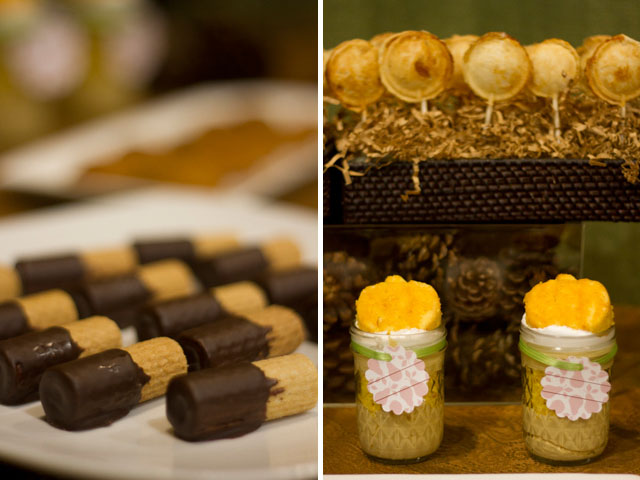 Pie pops are widely popular at the moment. Abby created apple pie pops for our table but her pecan and buko pie pops are just as delish!
Another semi-homemade treat are our chocolate dipped wafers. You can purchase pretzels, cookies, or marshmallows and dipped them in chocolate for an instant treat. These are usually some of the first desserts to disappear from our tables.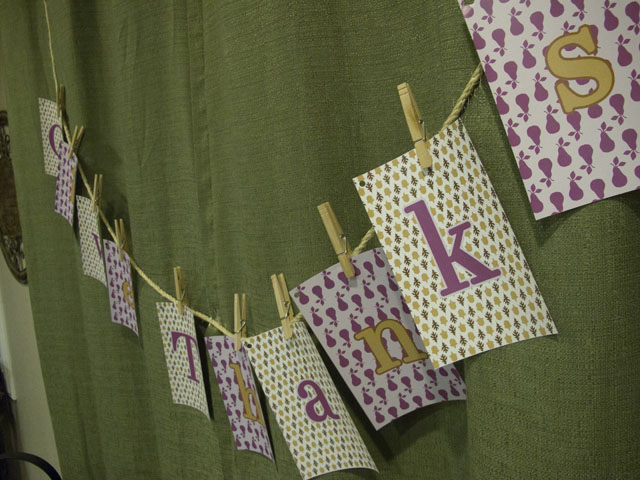 To dress up our backdrop we created a simple banner hung on thin rope using clothesline pins. If you take a little time to search the web, you can find some really beautiful printables for free! Check back later this week for some links to free thanksgiving printables on the web.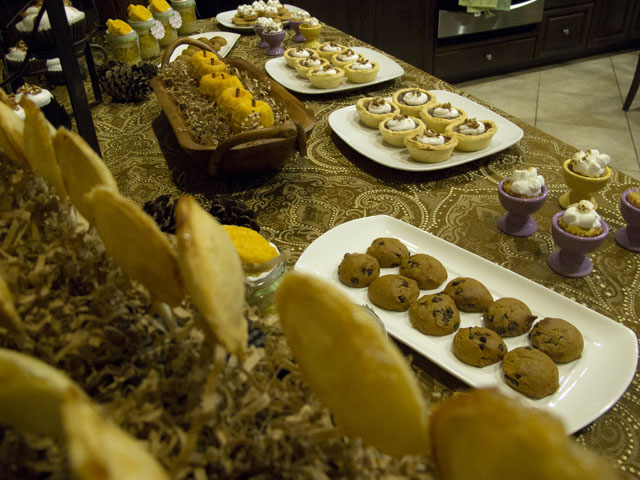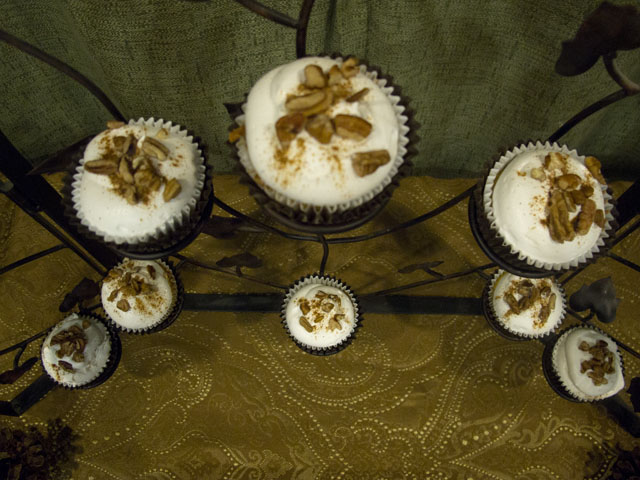 These yummy Vanilla Bean Cupcakes with butter cream frosting topped with pecans were made by Abby.  Cupcakes can be purchased almost anywhere. By adding pecans, cinnamon, sprinkles, or cupcake toppers, you can make normal store bought cupcakes into a festive dessert.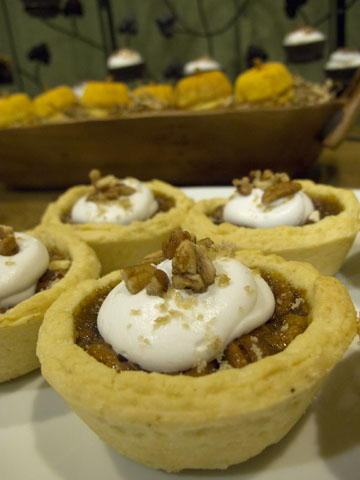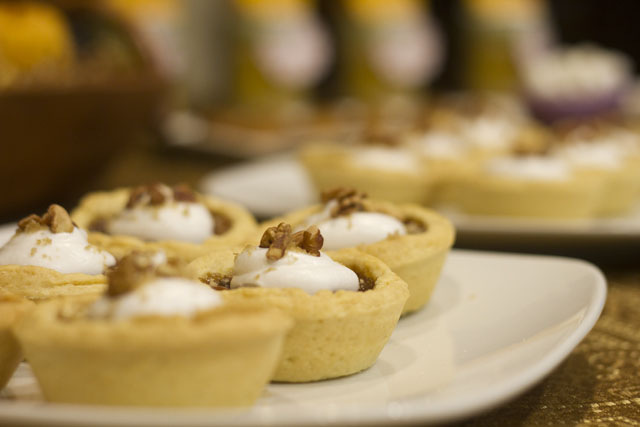 Pecan Pies and Tarts are one of the most popular desserts this time of the year.  These huge tarts were purchased from Walmart for $1 each.  Don't let the price fool you! These tarts are just as good as they look! Abby added some frosting and more pecans to dress it up.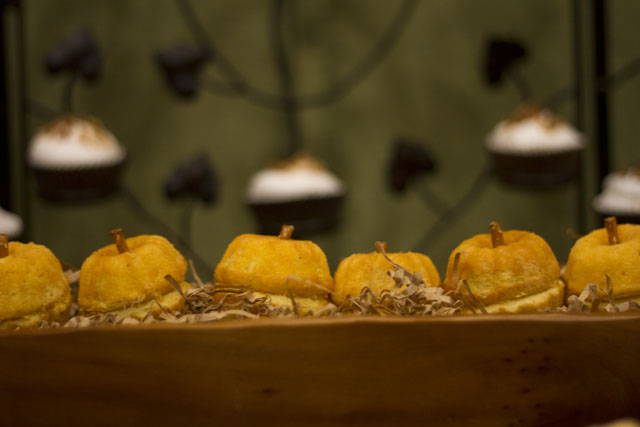 These Burnt Butter Pumpkin Pound Cakes were my favorite dessert on the table.  If you're loving them as much as I am, come back later in the week for the recipe!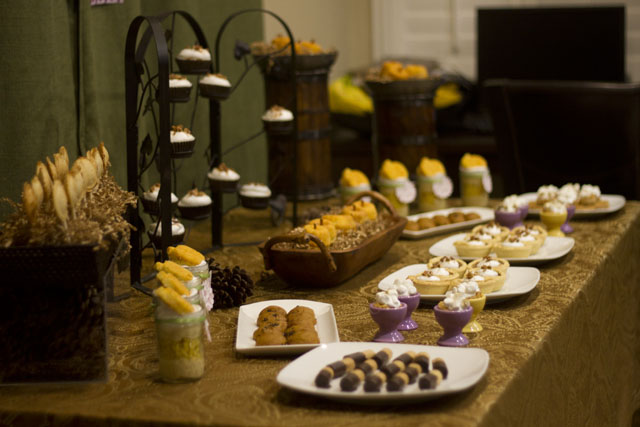 Hoping this post has inspired you to create your own dessert table this Thanksgiving! 
Please share photos from your dessert table below! We're excited to see them!
November 19, 2011
apple pie pops, burnt butter pumpkin pound cake, chocolate dipped desserts, chocolate dipped wafers, creative cupcake display, creative table linen ideas, diy backdrop, free thanksgiving printables, ginger lemon creme cookies, marshmallow toppings, mason jar desserts, pecan tarts, pumpkin cheesecake tarts, pumpkin chocolate chip cookies, pumpkin mousse trifle with gingerbread crumbs, semi-homemade desserts, thanksgiving dessert table, vanilla bean cupcakes