Under the Sea Birthday
---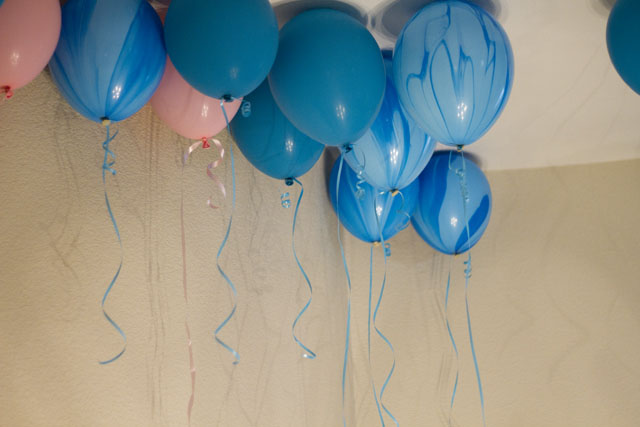 This post is long overdue! Back in October, I styled two children's birthday parties back-to-back ; and when I say back-to-back I mean on the same day and in the same house! I literally finished decorating this Under the Sea party downstairs, then moved on to the Super Mario Wii Tournament party upstairs. (See post here and here)  While it was very exhausting, the end result was extremely gratifying.
Let me first say, I genuinely love the old Disney movies more than the new 3D animations of today.  I think it has a lot to do with the catchy songs, innocent humor, and simplicity in story and design. One of my favorite Disney movies of all-time has got to be The Little Mermaid. In fact, if I had to choose my favorite Disney princess it would be Ariel.  I'm glad to know that I'm not the only who still loves mermaids and under the sea adventures.  Lucky for the birthday girl, her mommy is Abby of Piece of Cake.  There was no limitations to the creativity that went into the Under the Sea dessert table (a special post on that later).  For now we'll focus on the decorations and activities at our Under the Sea celebration.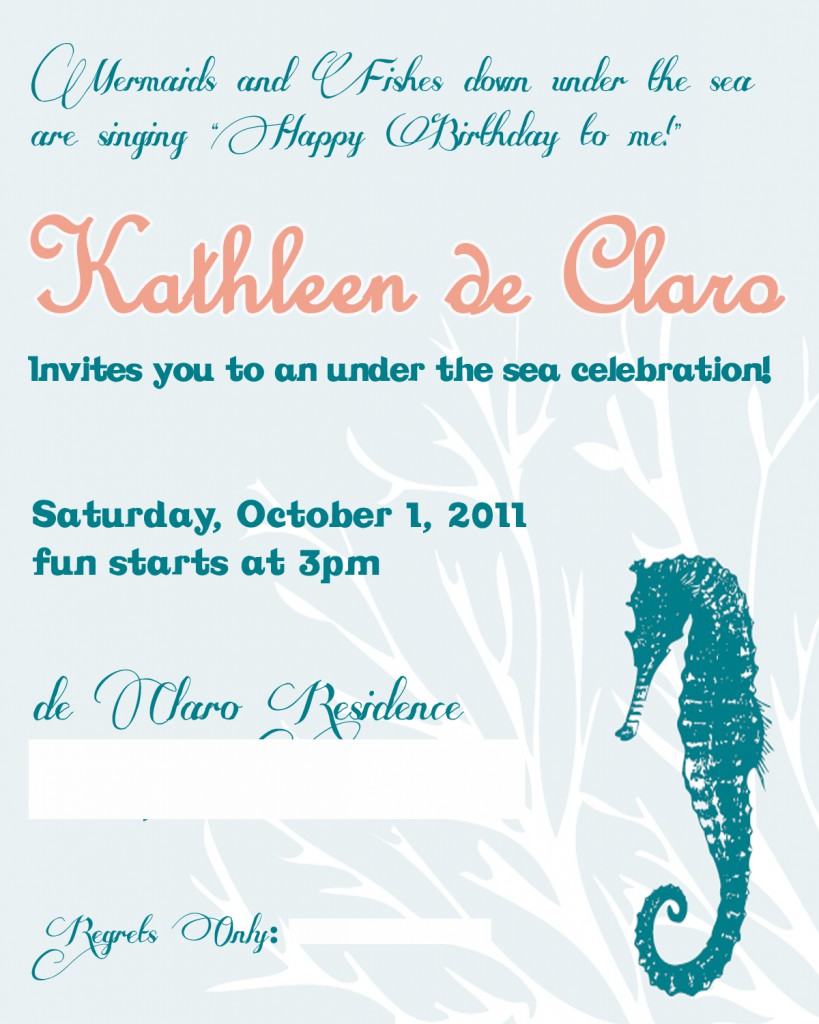 Our guests received these very feminine invitations in teal and coral with a bag of chocolate seashells and sand (aka brown sugar).  Unfortunately I have no photos of the packaged invitations but you can imagine how it set the mood for the event perfectly.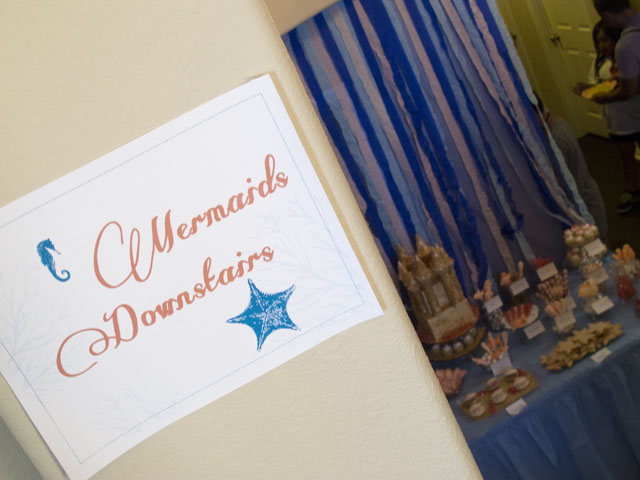 Upon arrival, guests were greeted by this special mermaid sign directing them to the festivities below.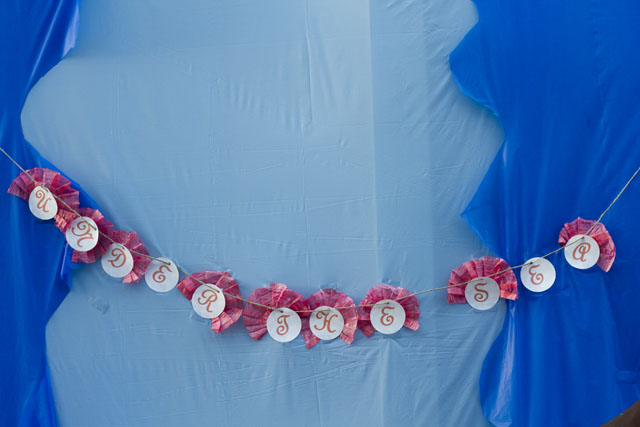 When they finally reached the party in the backyard, they were welcomed with our Under the Sea Photobooth. (more pictures to come later in this post!) On the right side was our Mermaid Cove. This was a reserved table for our mermaid guests.  It was enclosed with two tents wrapped with aqua table covers. The tablescape included personalized place settings, drink bottles, and a bag to hold their crafts and desserts to bring home.  Our centerpieces were two pieces of manzanita branches, chocolate seashells in sand and a treasure chest filled with pretty beads for the girls to wear.  On each girl's chair hung a personalized t-shirt with their name and a seahorse similar to the one in their invite.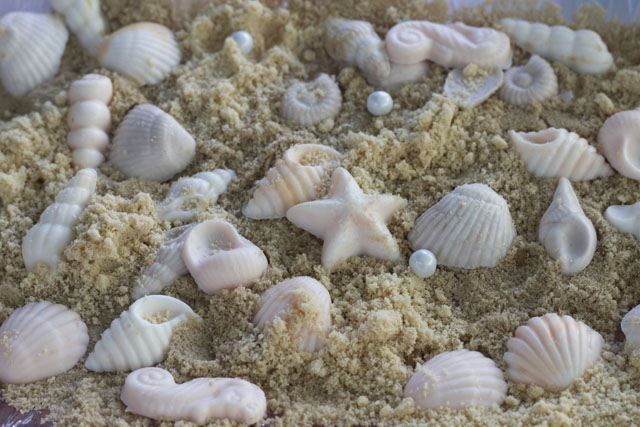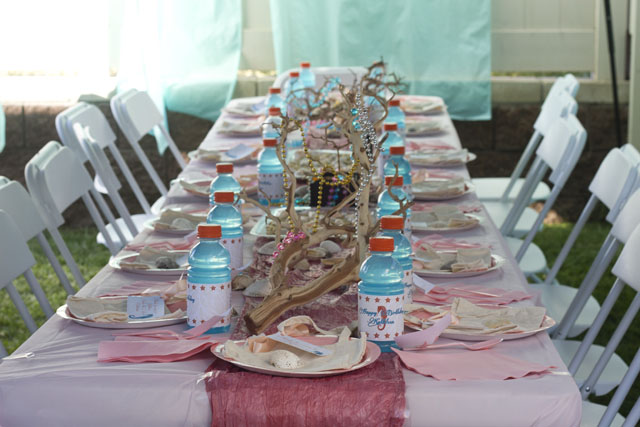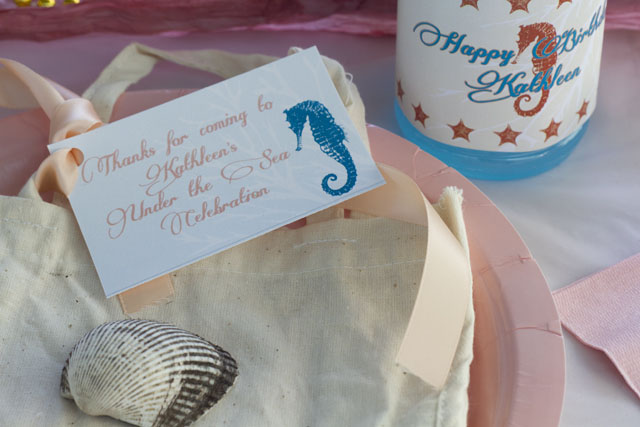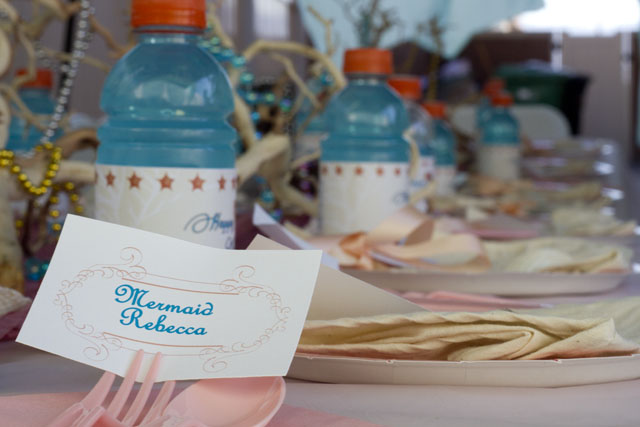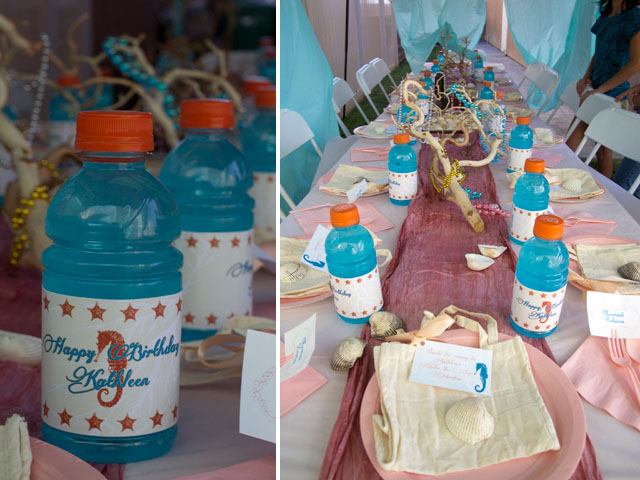 To the left was seating for parents of all the children invted.  Their tables were topped with beautiful starfish wands in goldfish bowls filled with aqua and white rocks.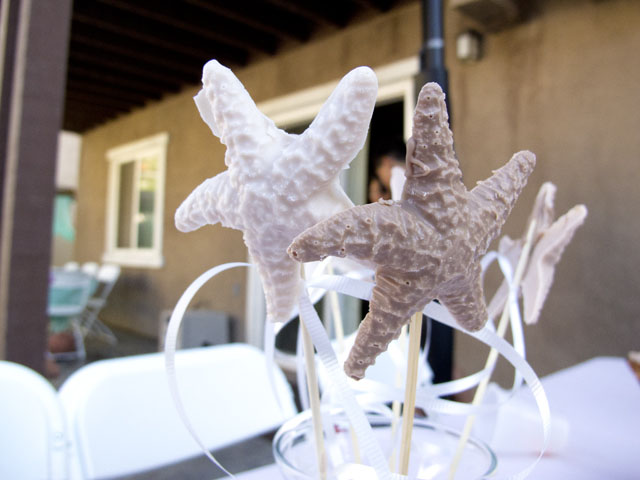 Once lunch was finished, the girls were escorted to their crafts table to decorate their photo frames to put their photobooth pictures in.  The second craft was inspired by the scene in Little Mermaid when all the sisters were in their dressing room getting ready for their performance. For some reason I always have this image of Ariel with a beautiful hairpiece adorning her head.  We had the girls embellish their own hair combs to wear in their photos.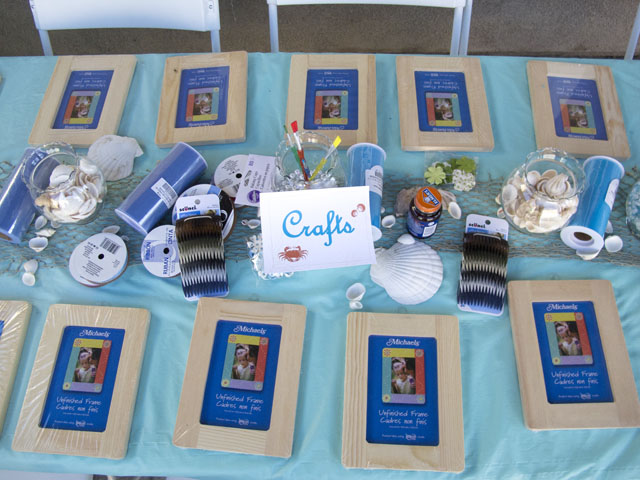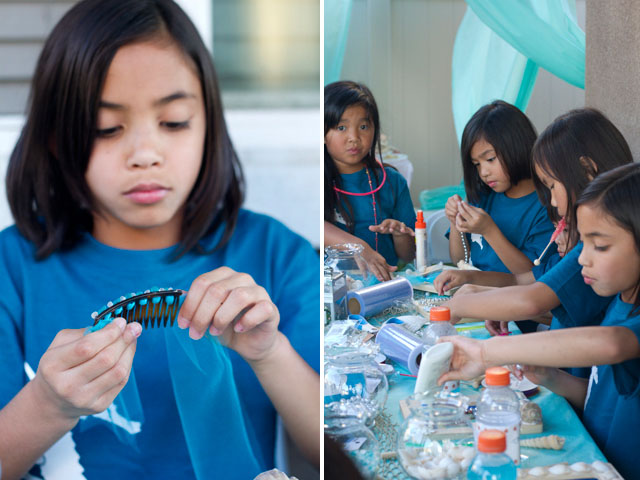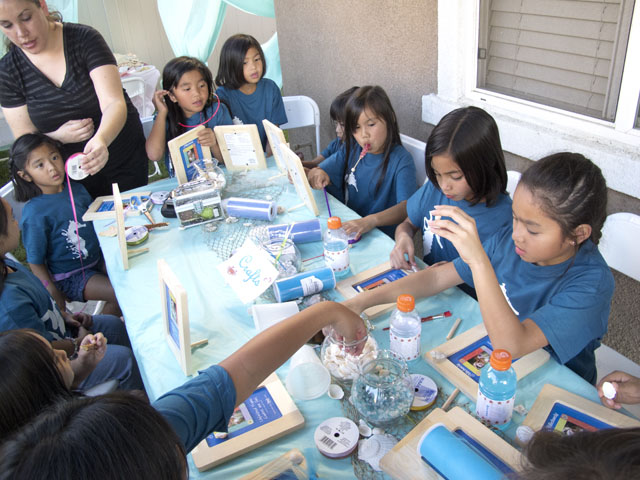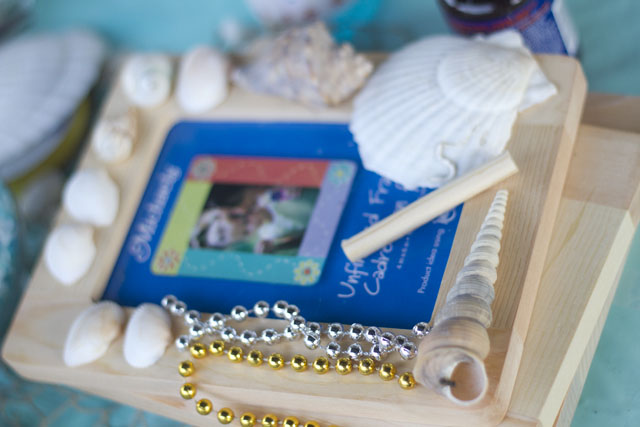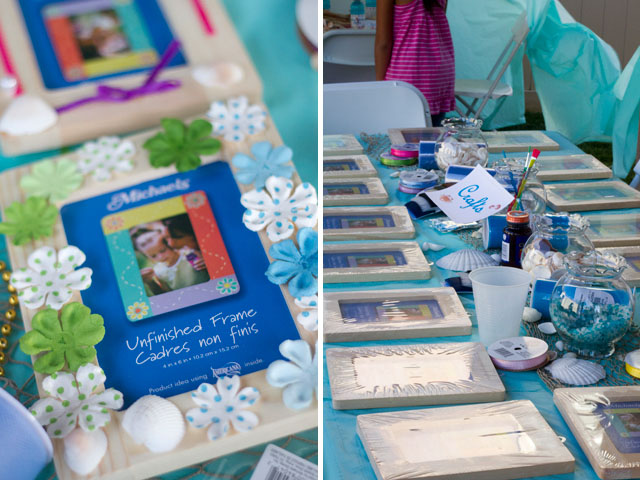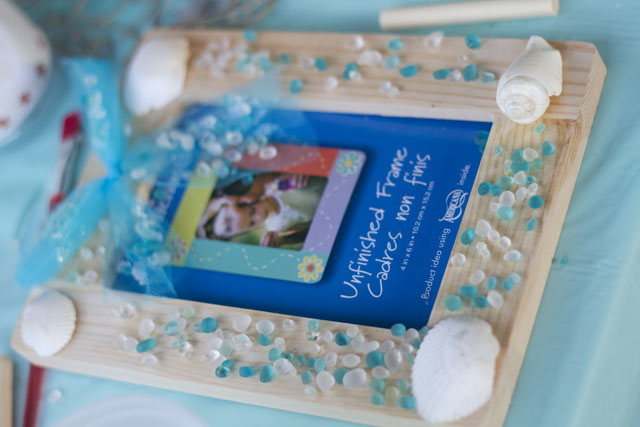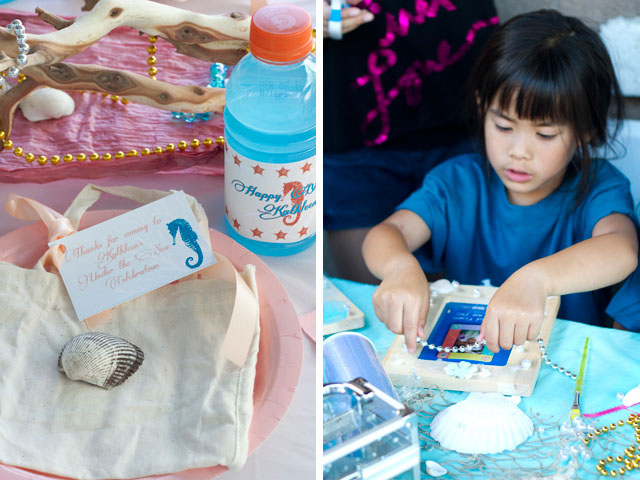 As the girl's finished their crafting, they had free time to get their face painted, play a quick game of goldfish toss, and select their costumes for their photoshoot.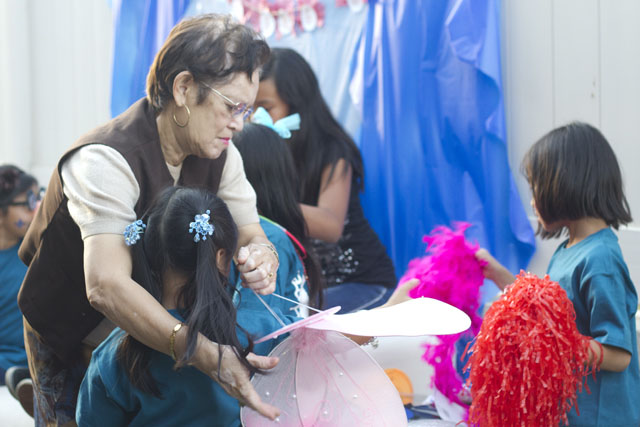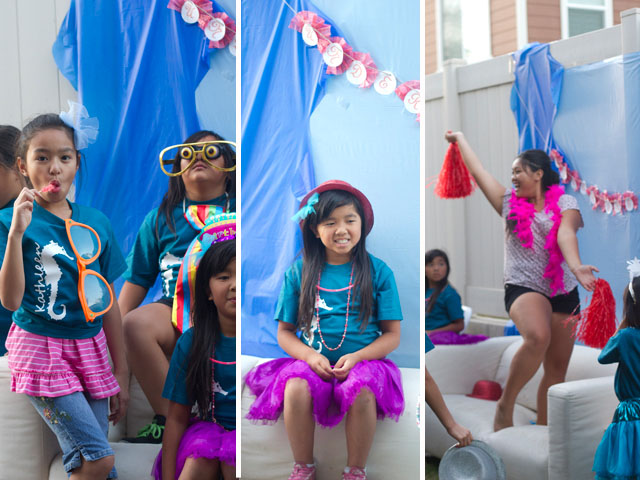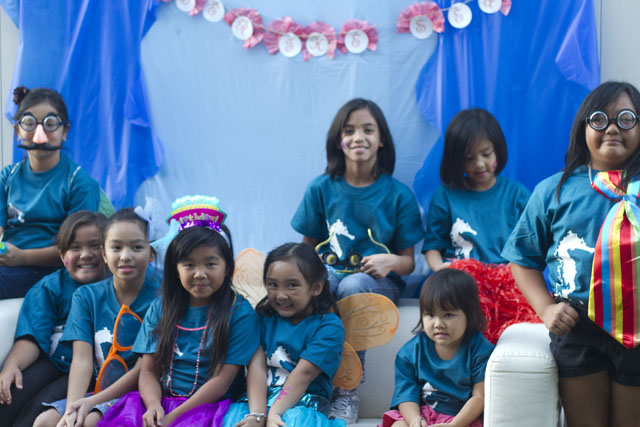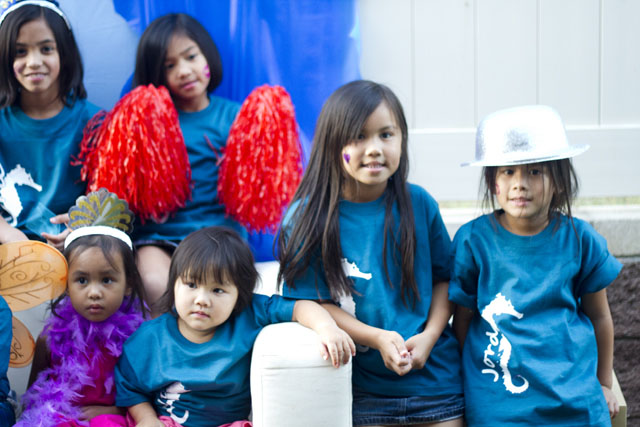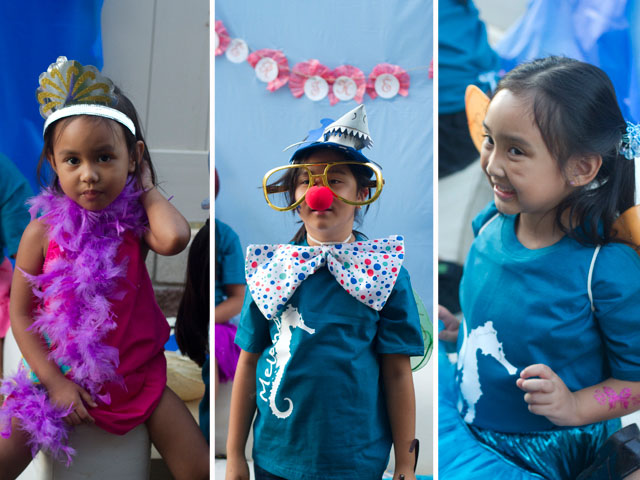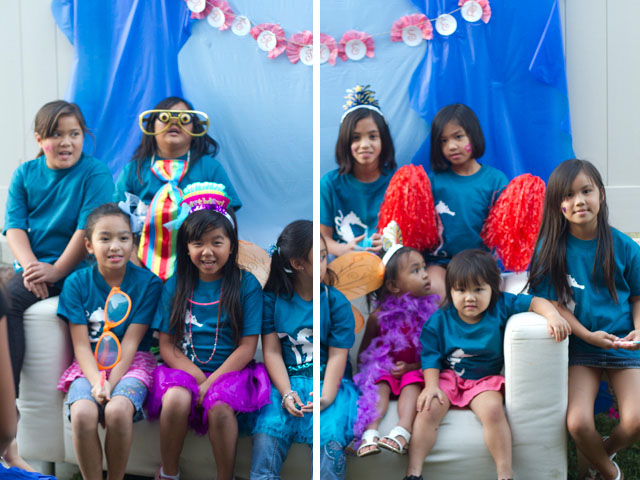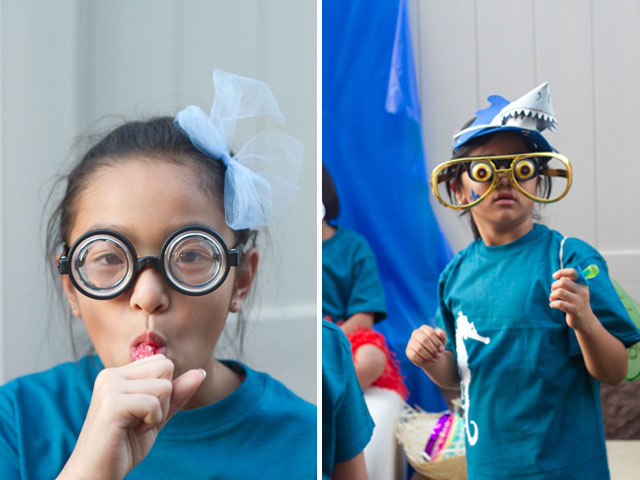 From the smiles on our little mermaid's faces, it's clear that they all had a wonderful time.
Stay tuned for our special Under the Sea dessert table post!
*******
Vendors
Event Styling/Paper Goods/Photography: Love Every Detail
Desserts: Piece of Cake
Craft Supplies: Michael's and Walmart
Favor Bags and Table Runner: Papermart