ARC Teacher's Workshop
---
Last year, we prepared a special workshop / luncheon for our children's Sunday school teachers at church. After a year of many changes and challenges, the faithfulness and dedication of our teachers have been undeniable.  For me, to help organize and decorate this event was the least I could do to show them my appreciation.  The first half of this post gives a little glimpse of the ministry and activities in our workshop.  The second half will focus on decor ideas and semi-homemade tips for a dessert table.
Our ministry is called A.R.C. (All Reaching for Christ) with a mission for the kids to Know the love of God, Grow in their faith, and Go share God's love to all those around them.  Since we could not find a local conference to attend, we decided we would host one in our own church.  God has blessed this ministry with formally trained christian ed teachers, Sunday school teachers with many years of experience, trained nurses to provide instruction for emergency procedures, and even a teacher that works with children with disabilities.  All these tools came together and provided us with a well rounded seminar that I feel was extremely useful in preparing our teachers for the new year.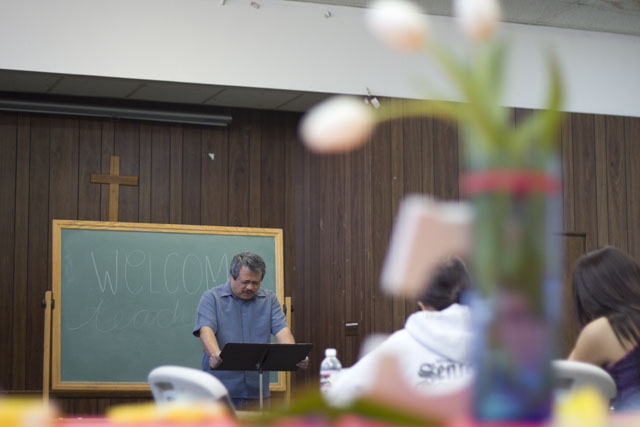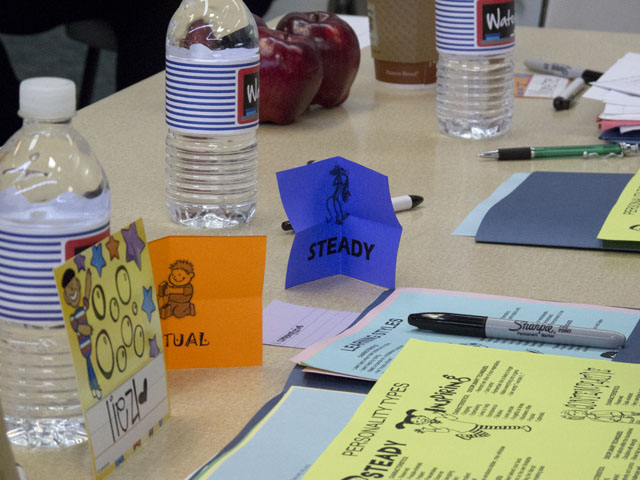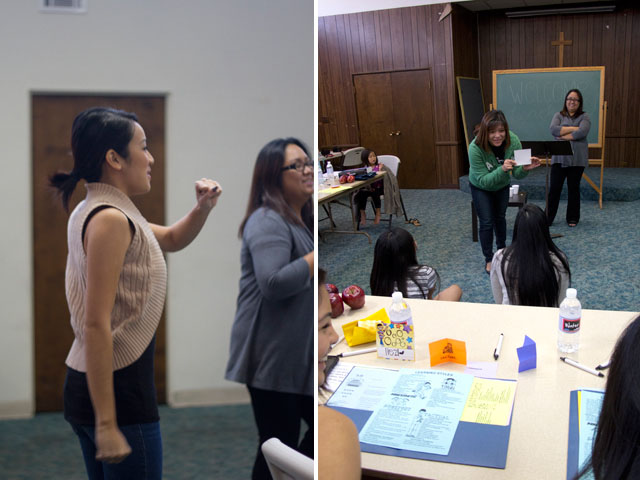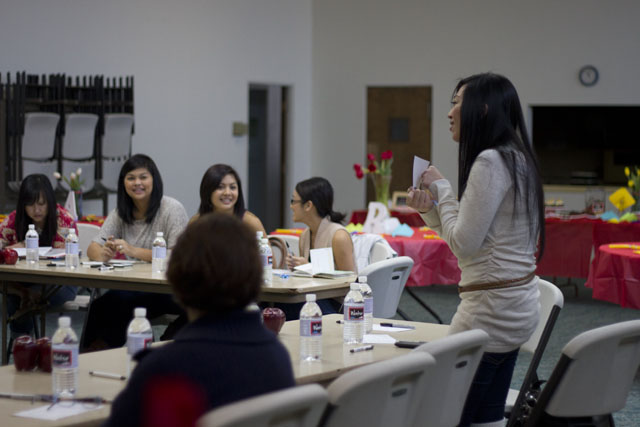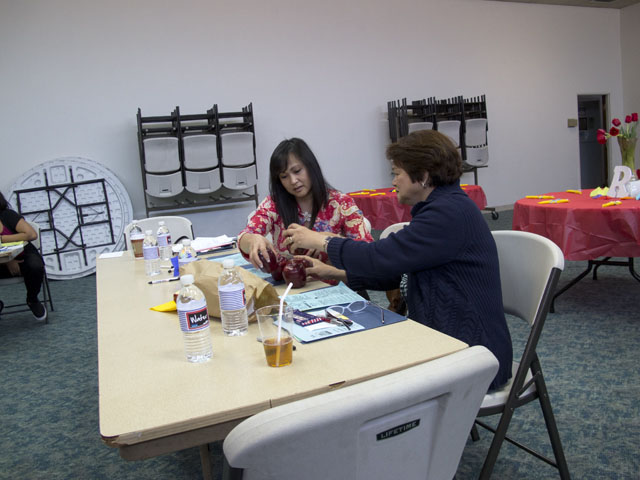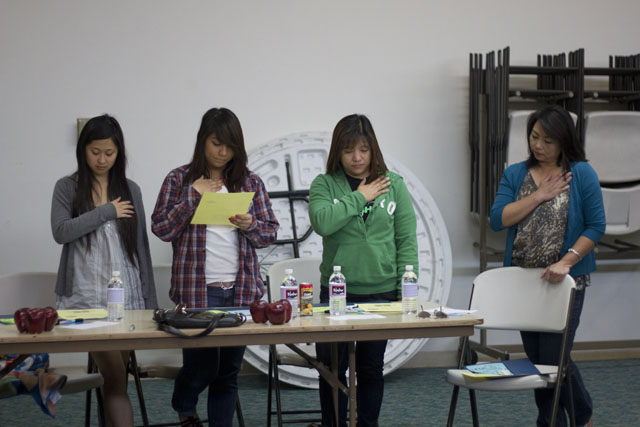 For decorations, I chose common school themed elements and found creative ways to incorporate it into the decor.  I love using flowers but they can be costly.  While my budget was small for this event, I was happy to find these beautiful tulips for sale at my local grocery store.  It pays to look at the clearance section sometimes.  I spent less than $10 for 4 bunches of tulips and created 6 centerpieces from it. What a steal!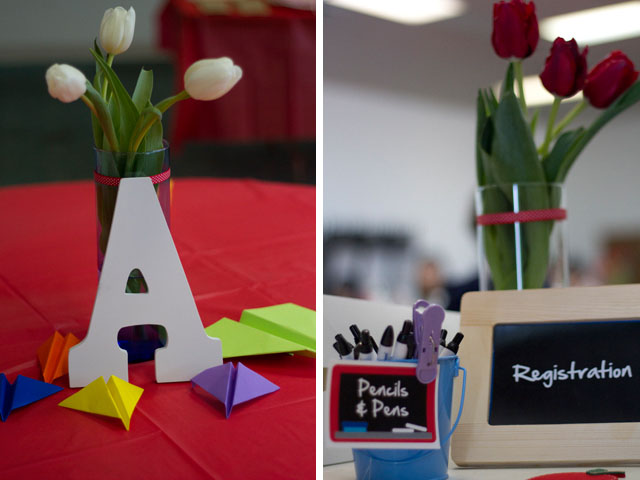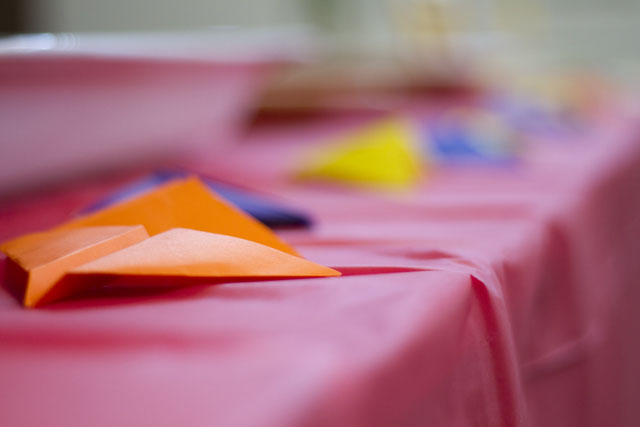 With a pack of origami paper sitting in my craft supplies, I put my husband to work folding paper airplanes.
I purchased wooden letters of our ministry name which was later hung in our kid's house.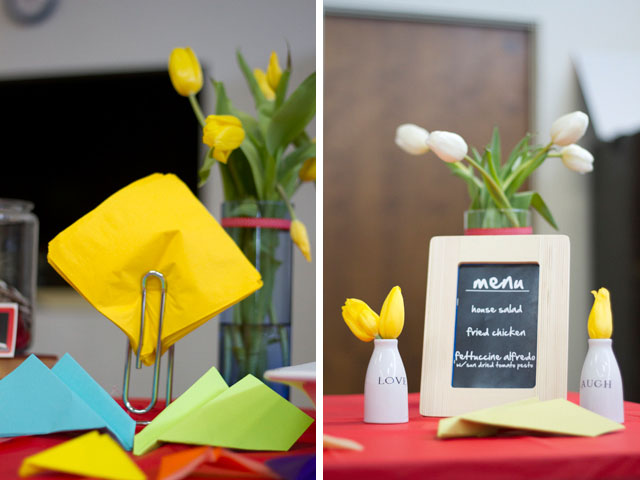 All signs were made from $1 wood frames from Michaels.  The inserts were made to look like a chalkboard using a black background and handwritten font found on dafont.com.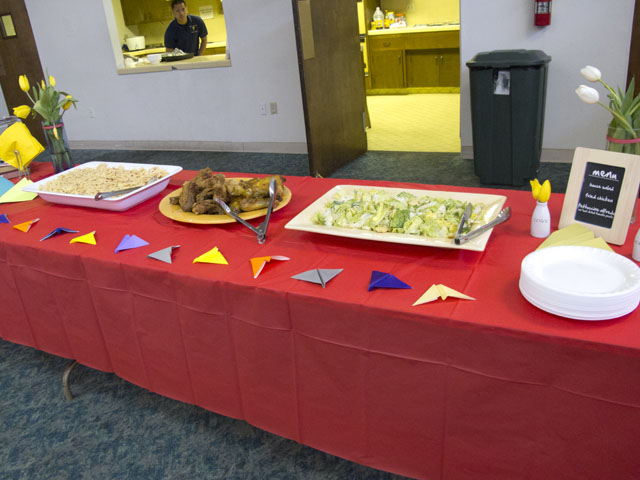 The menu consisted of a caesar salad, fried chicken, and alfredo pasta.  All simple dishes but when placed in nice platters create a more formal and inviting table.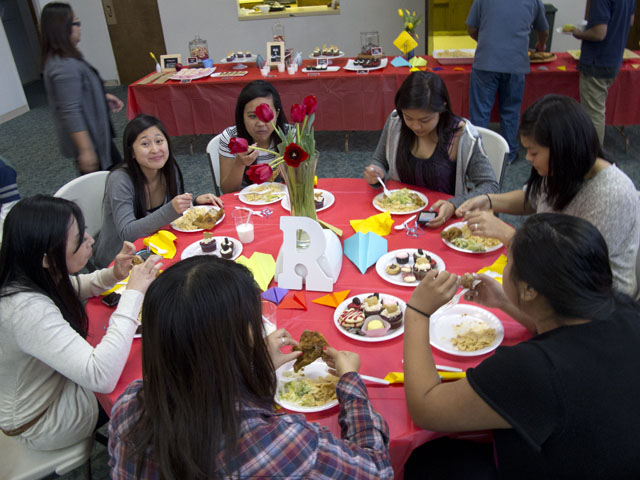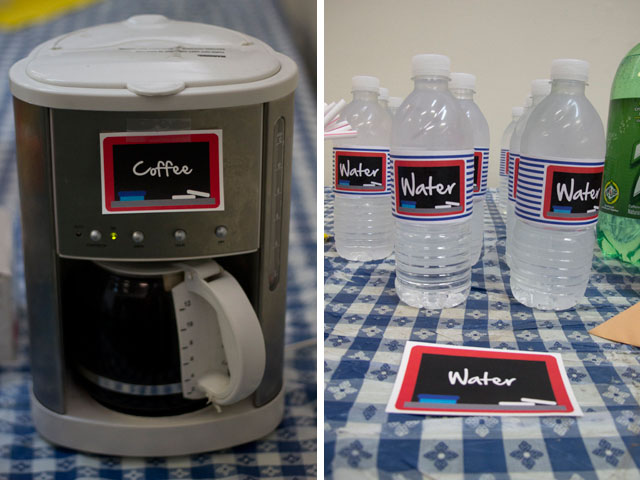 Drinks were spruced up with labels easily created on my computer.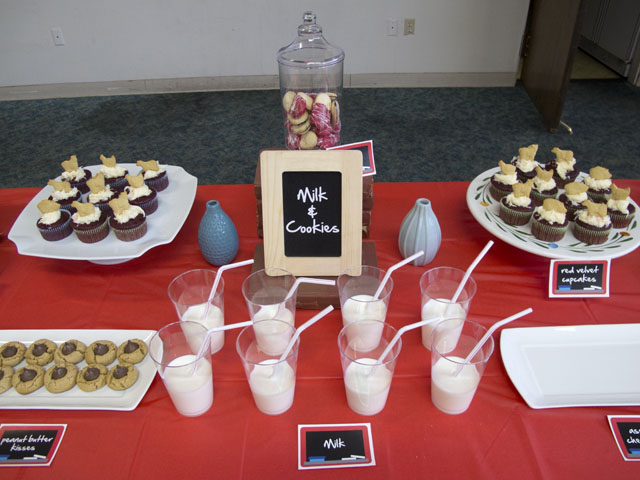 Our dessert table was a "Milk and Cookies" theme, fitting for a teacher's workshop.  Most of the items on the table were semi-homemade, but put together created a fun table.
This was probably the most difficult dessert to make since I did not know the tricks to baking apple sugar cookies.  It did not come out as planned, but I think it was beautiful placed in the cookie jar.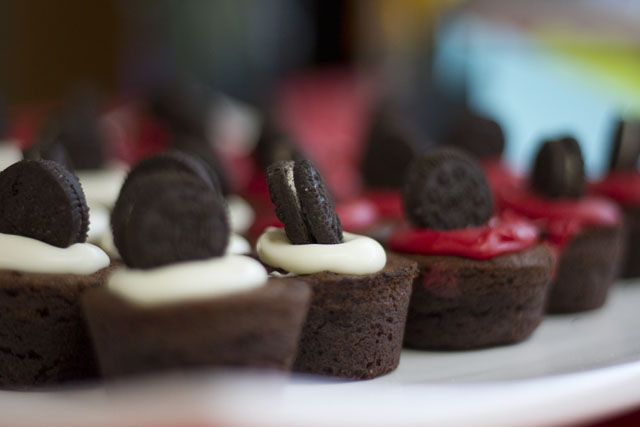 These brownie bites were purchased at Costco for $5.99 / 48 pieces.  They were embellished placing a dollop of store bought icing and topping it with a mini oreo cookie.
Also purchased at Costco, these mini cheesecake bites were affordable and easy. All I had to do was put it on a platter and serve.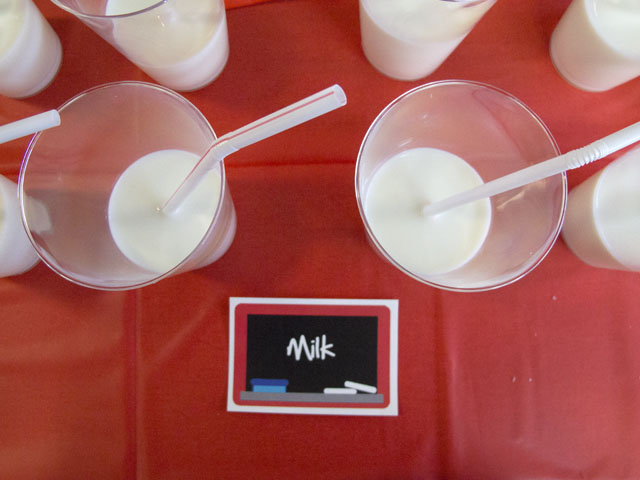 I put milk in clear cups and added a straw for cuteness.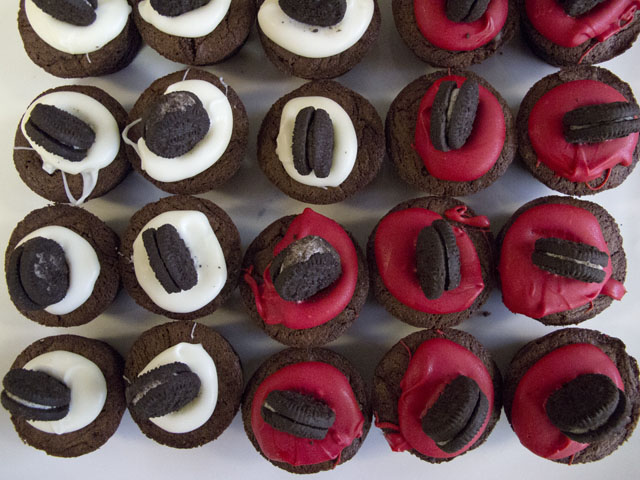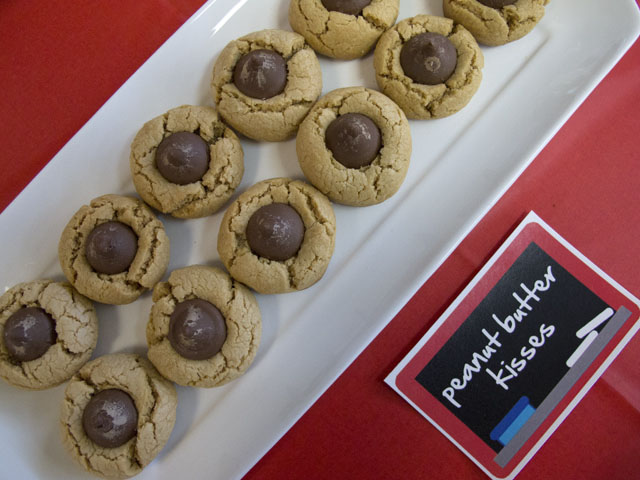 These peanut butter kiss cookies were delicious and so easy to bake.  What kid doesn't like peanut butter? I'll be sure to share the recipe in a future post.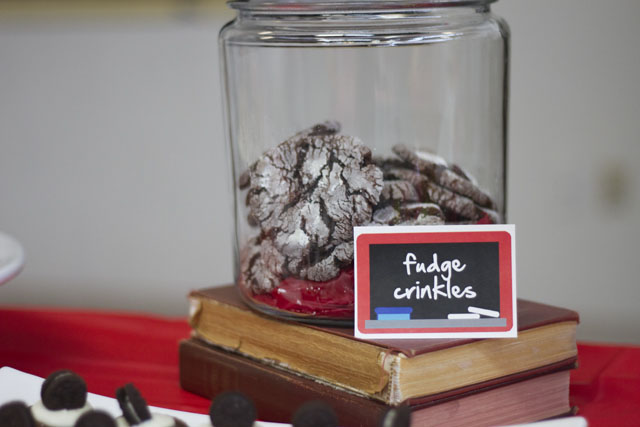 I LOVE the look and taste of fudge crinkle cookies.  Get this, they are even easier than the peanut butter kisses above! I promise to share this recipe as well.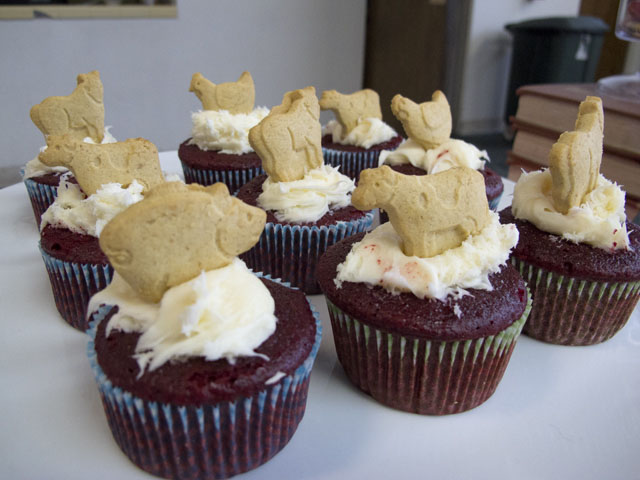 These red velvet cupcakes were baked from a box. I know, how could I? But, they were delicious and adorable when topped with store bought icing and animal cookies.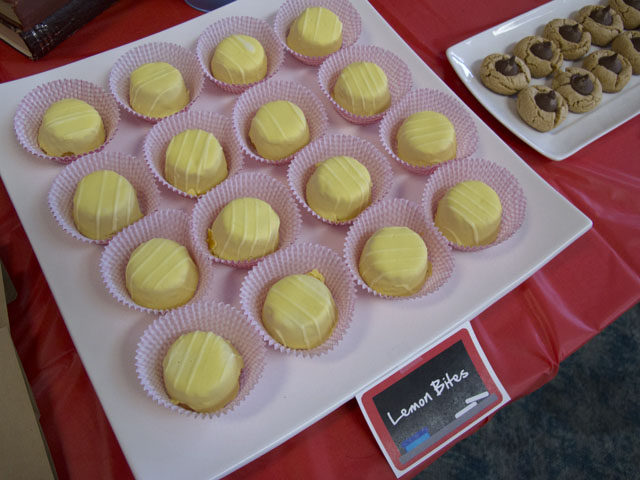 These Lemon Bites were also purchased from Costco for $5.99 / 48 pieces.  We placed them in cupcake liners and served them.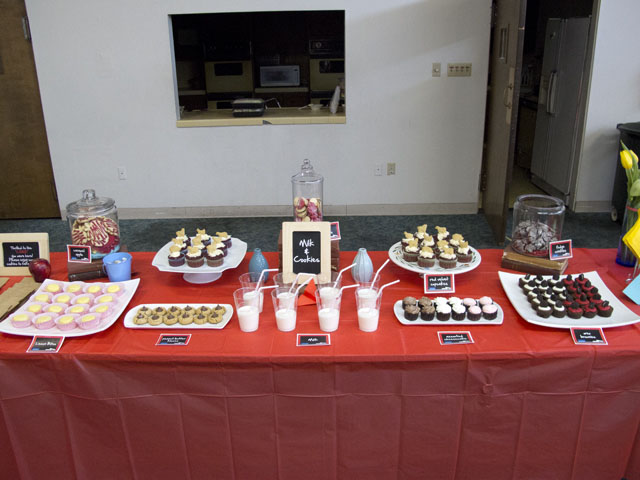 The last dessert was our Mint Milano cookies.  We just dipped them in red icing, drizzled with white for decor and served.  No baking needed.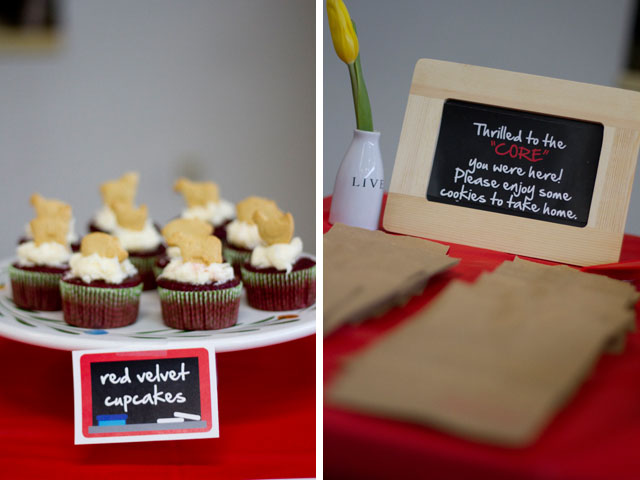 Teachers were given small paper bags stamped with a simple "Thank You" to take home treats.  Everyone left with big smiles on their faces and hearts ready to tackle the new year.  I'm excited for our next teacher's appreciation luncheon.
Next I'll share some of the incredibly easy cookie recipes that your family will be sure to love!
March 10, 2012
apple sugar cookies, chocolate dipped mint milano cookies, diy chalkboard signs, fudge crinkles, lemon bites, milk and cookies dessert table, mini cheesecake bites, oreo brownie bites, paper airplane decor, paper bag treat bags, peanut butter kiss cookies, red velvet cupcakes, semi-homemade desserts, teachers appreciation luncheon, teachers workshop, tulip centerpieces, water bottle labels, wooden letter decor