DIY Project: Cake Pop Ferris Wheel
---
As mentioned on my previous post, two of my favorite party websites, Catch My Party and Hostess with the Mostess, featured our Vintage Carnival Dessert Table.  Since so many have enjoyed our Cake Pop Ferris Wheel, we decided to finally post our DIY instructions. Keep in mind that my hubby and I didn't exactly take wood shop in high school so if you have any recommendations on how to improve this DIY project, please do share!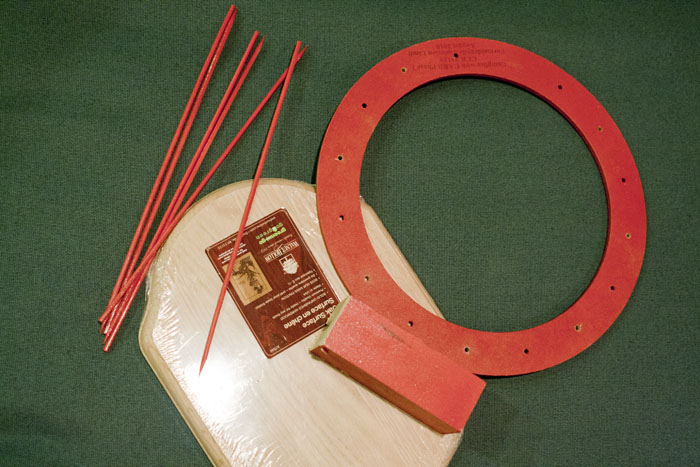 Supplies needed:
Power drill / screw driver
9/64 in. Drill bit
Hot glue gun
Wood saw (optional)
(1) Wooden plaque / base (Purchased from Michael's)
(1) 14in. Wooden floral & craft wreath ring (Purchased from Michael's)
(1) 1 in. x 1 in. x 3.5 in. Wooden block (Purchased from Michael's) OR (2) 0.5 in. x 0.5 in. x 3.5 in. Wooden blocks
(2) 1 in. Wood screws
(2) 1.25 in. Wood screws
(1) Can of spray paint (your color of choice)
(4) BBQ skewers
(1) Popsicle stick (To test the cake pop hole size)
Step 1:  Mark where you'd like to drill the holes for the cake pops on the wreath ring. With a 14 in. wreath ring, we were able to mark 14 spots for the cake pops.  Tip: You should have at least 1.25 in. / 1.5 in spaces between your marks depending on your cake pop size.
Step 2:  We used a 9/64 in. drill bit (depends on your popsicle thickness) and drilled into the wreath ring.
Step 3:  Using your color of choice, spray paint the wreath ring, wooden block, and bbq skewers.  Let dry.
Step 4:  We took a wood saw and sliced 3/4 into the wooden block so the wreath ring would fit snugly between the wooden block. Use the two 1 in. wood screws and screw into the wooden block and wreath ring. Tip: You can also take two of the 05. x 0.5 x 3.5 in. wooden blocks and just sandwich the ring.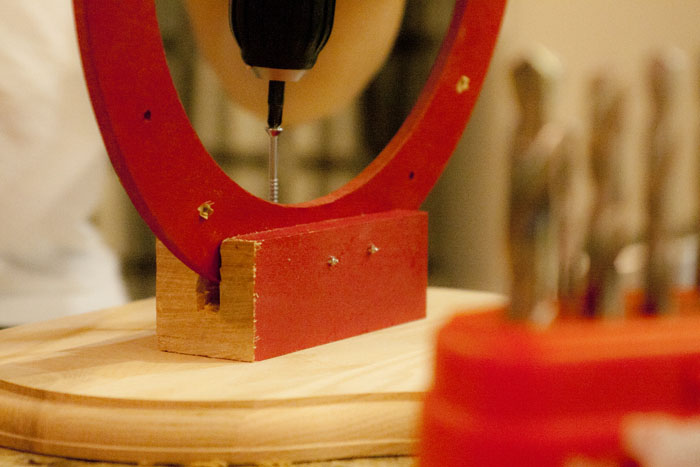 Step 5:  Screw the wooden block into the middle of the wooden plaque. We used two 1.25 in. wood screws.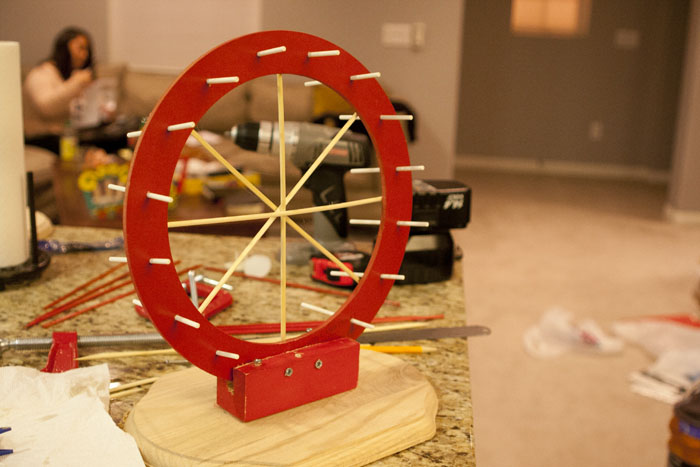 Step 6:  Crisscross bbq skewers and glue them onto the back of the ferris wheel.
Step 7: Insert the cake pops into the holes. Voila, you're done!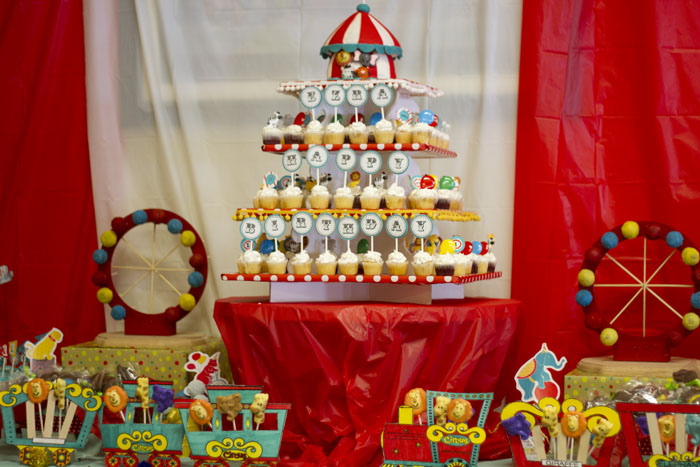 Please do share photos of your ferris wheel.  I'd love to see what creative details you come up with.