Fall Inspired Dessert Table
---
"Not what we say about our blessings, but how we use them, is the true measure of our thanksgiving." – W.T. Purkiser
I have so much respect for companies that take the time to show their appreciation for their employees. I'm a firm believer in that keeping your workers happy is the key to a productive business. One particular company that makes a consistent effort to acknowledge their team is Brio Home Health Services. Last year, you might remember the Oscar Themed Dessert Table we made exclusively for BRIO's company party. They enjoyed working with us so much that they requested our services again for their annual appreciation luncheon. We were granted full creative control which means I got to choose the design and the desserts! I just love working with clients that trust my vision for their special occasion.
Since Thanksgiving is just around the corner, I decided I would keep it within the seasonal theme (minus the use of pumpkins and turkeys). What we created was a fall inspired dessert table filled with mini bite-sized desserts by Piece of Cake to satisfy every guest's sweet tooth!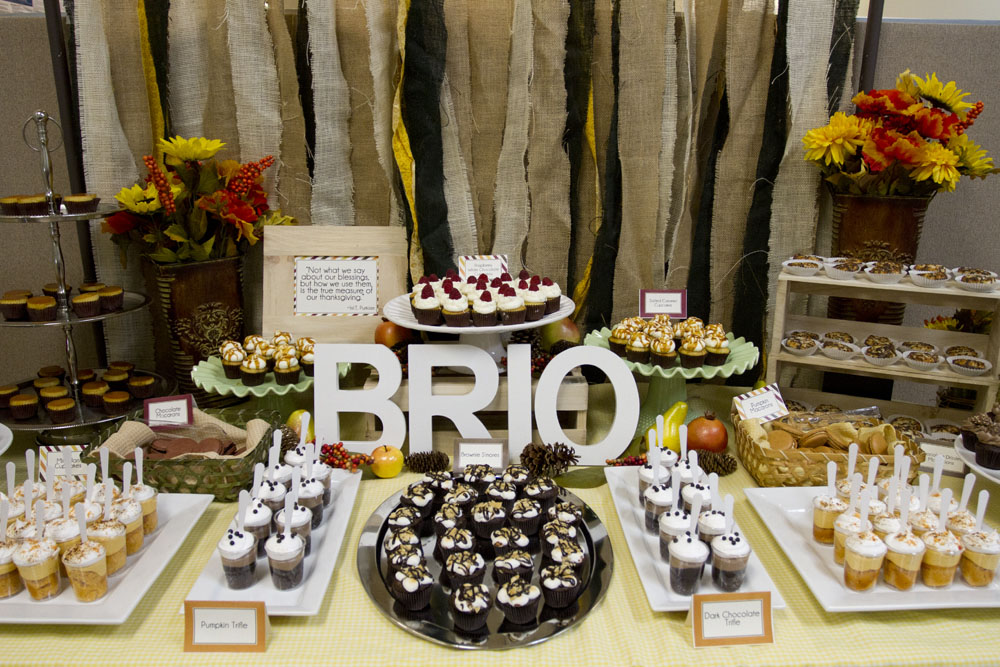 Table Highlights:
Burlap Backdrop – This backdrop was originally used as the photobooth backdrop at my friend's Star Wars Grad party. His mom graciously gifted me this diy beauty when the party was done. I thought it would bring in texture and a natural feel to our fall table.
BRIO Wooden Letters – While scanning the room to scout out the perfect location for the dessert table, I came across these perfect wooden letters used as decorative pieces in the BRIO office.  I immediately asked if I could use the letters to personalize the table and I'm so glad they said yes! It was definitely the best last minute find ever.
Framed Thanksgiving Quote – I enjoy incorporating beautiful quotes in my décor designs and Thanksgiving seems like the perfect time to do so.  It's the only time when people gather and share bits of wisdom gained throughout the year. I googled "Thanksgiving quotes" and found this gem from Quote Garden. In just a few words it captures the essence of a thankful heart. I also felt that it perfectly reflected the ideals at BRIO.
Floral Arrangements – The floral bunches were purchased from the clearance section at Walmart and ranged from 75 cents to $1. Some were placed in metal containers and others in dressed up mason jars scattered on the table and throughout the room. They provided the right punch of color to set the fall mood.
Free Thanksgiving Printables – Since I didn't have time to design my own printables, I came across this free thanksgiving printable set by Three Little Monkeys Studios via Catch My Party. This set contains everything you may need for your dinner party, "Give Thanks" banner, Menu, recipe cards, tent cards, and favor tags to name a few.
For those interested in the details of the bite-sized goodies, here is a list of our sweet treats:
Menu:
Mini Flan Cupcakes
Dark Chocolate Raspberry Cupcakes
Salted Caramel cupcakes
Raspberry White Chocolate Cupcakes
Ferrero Rocher Cupcakes
Brownie S'mores
Pumpkin Trifle
Dark Chocolate Trifle
Chocolate Drizzled Macaroon
Pumpkin & Chocolate Macarons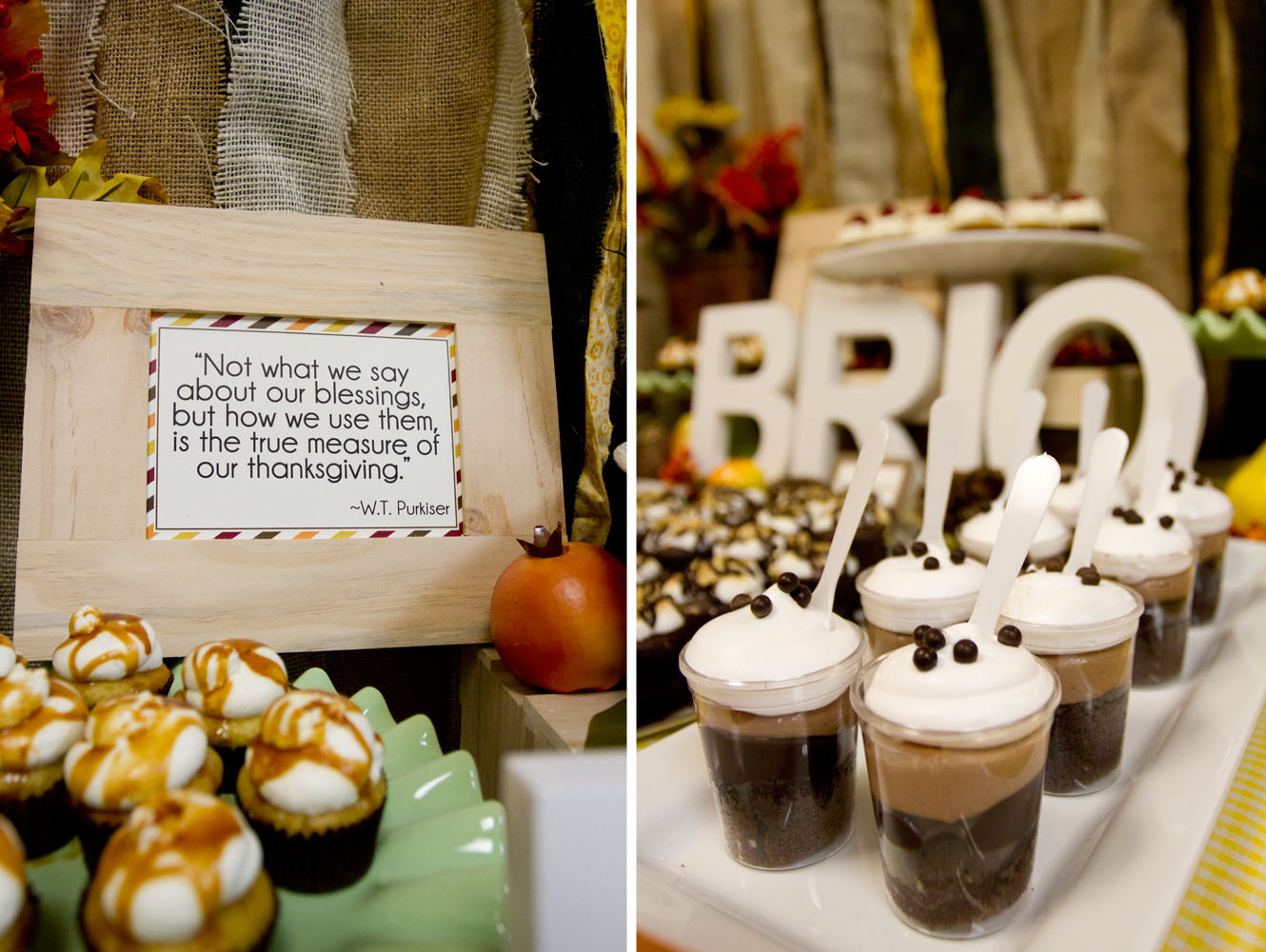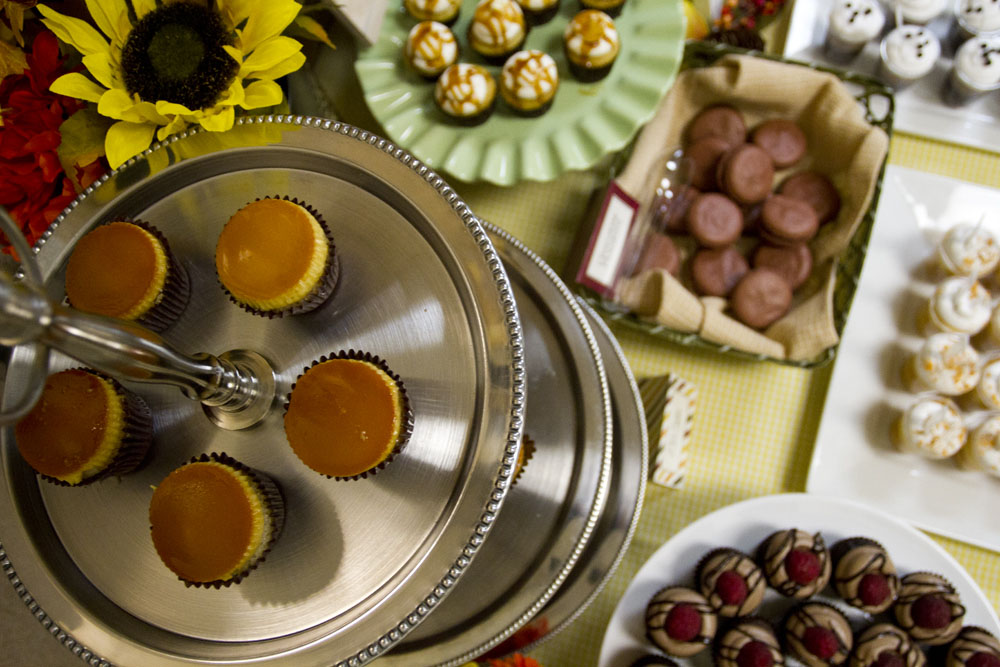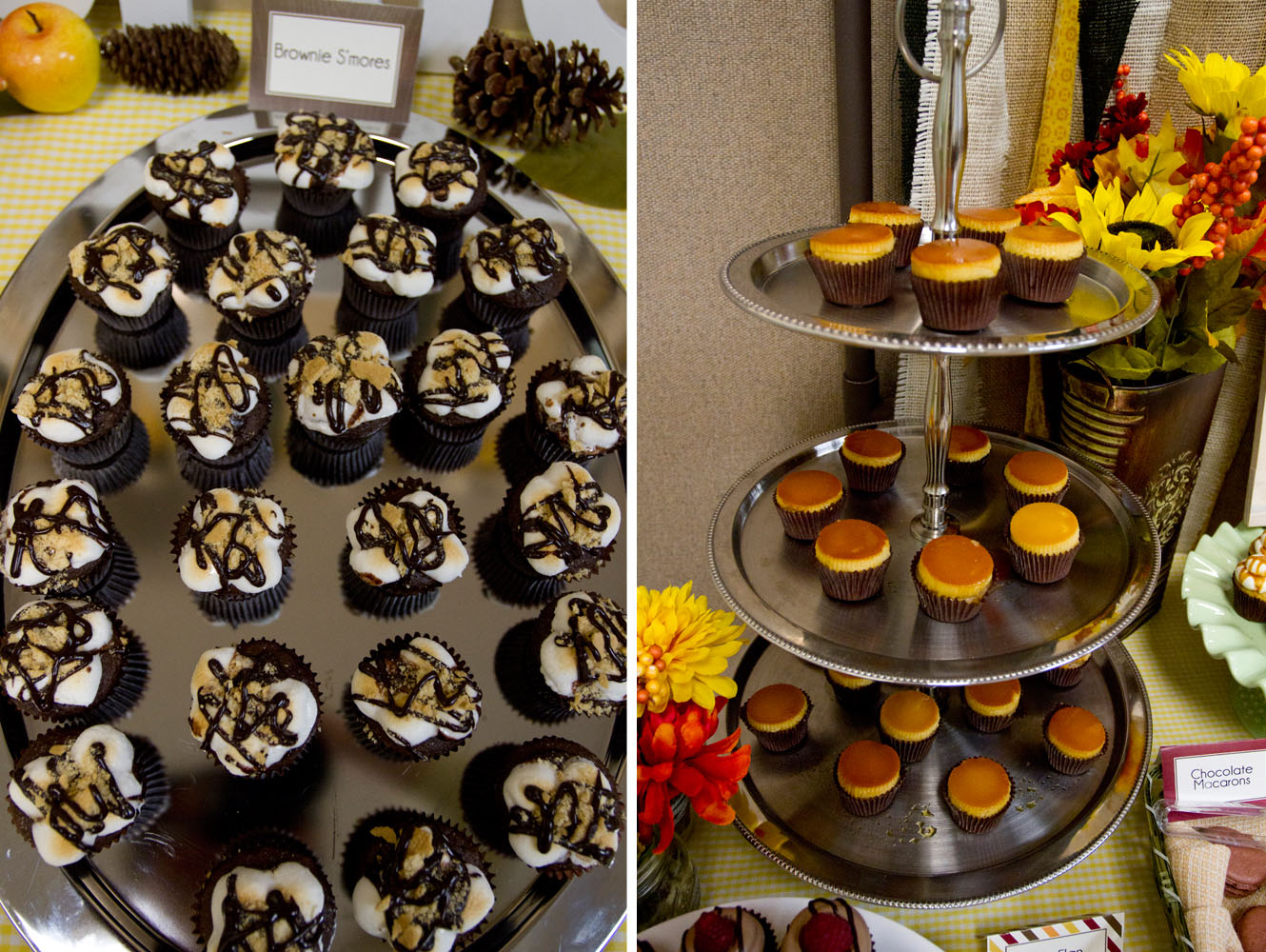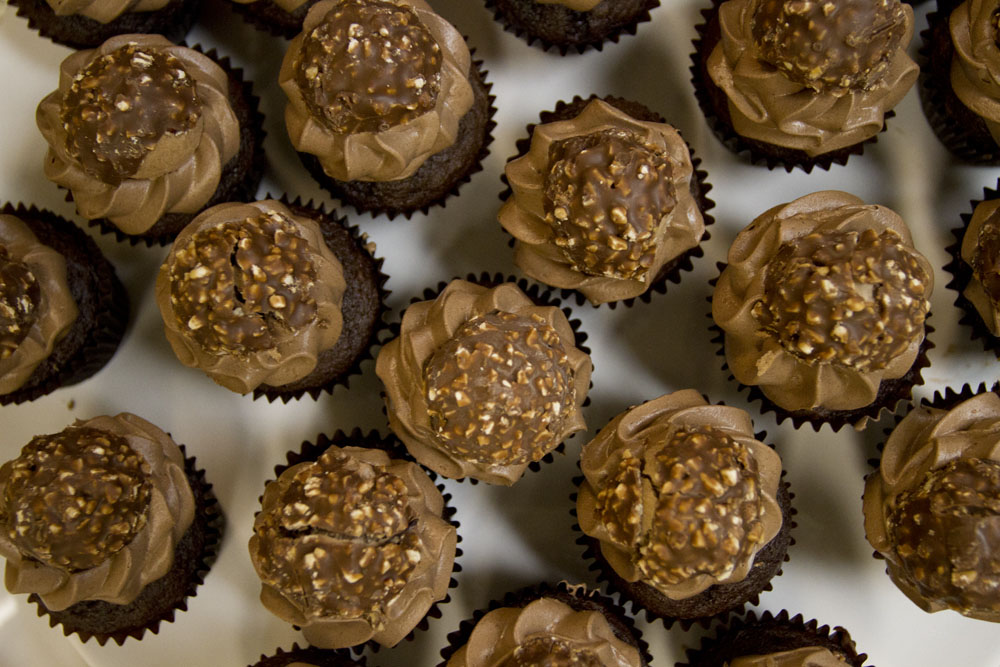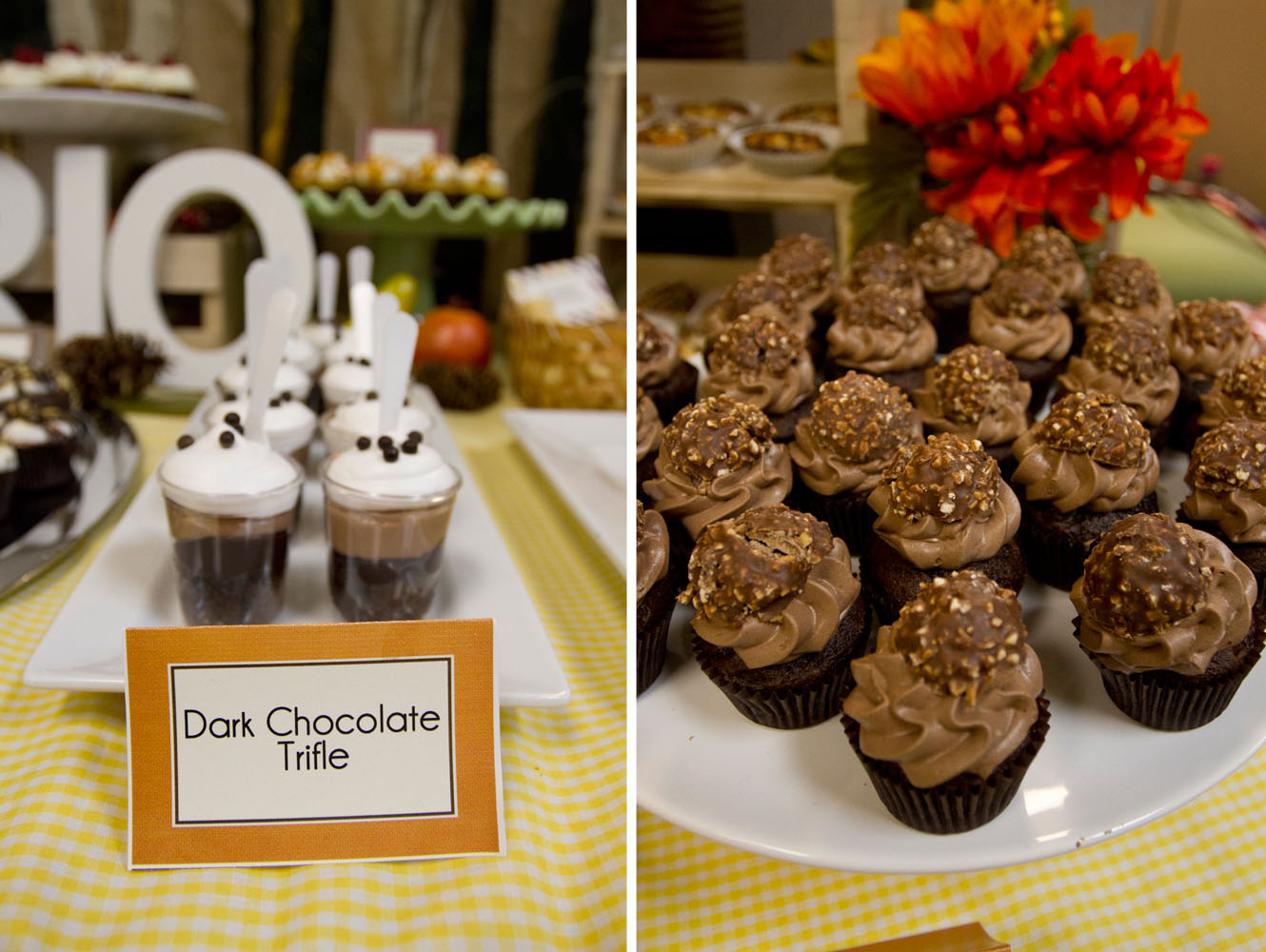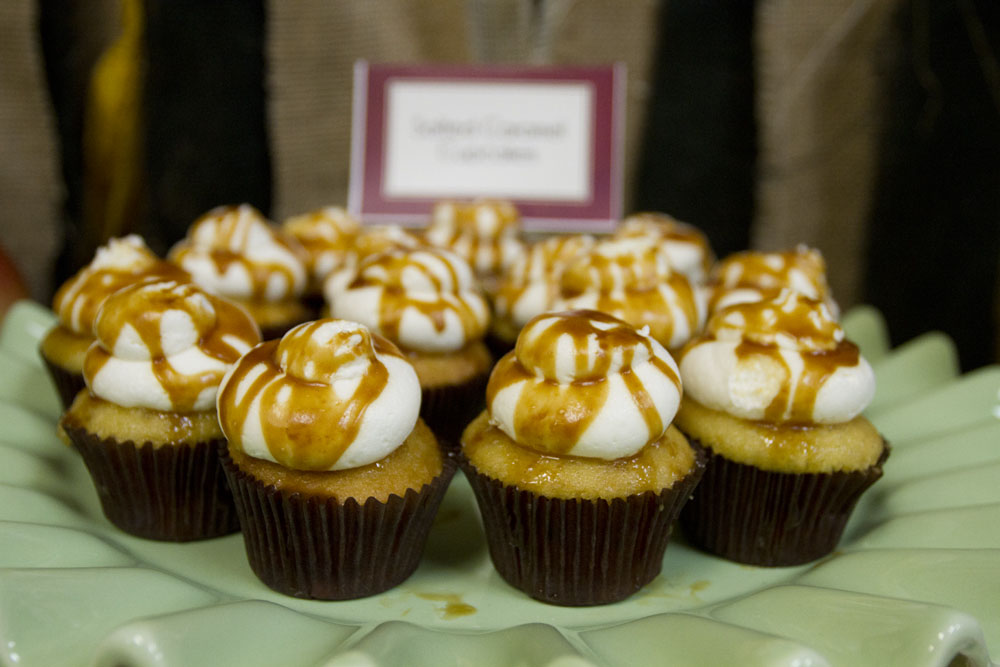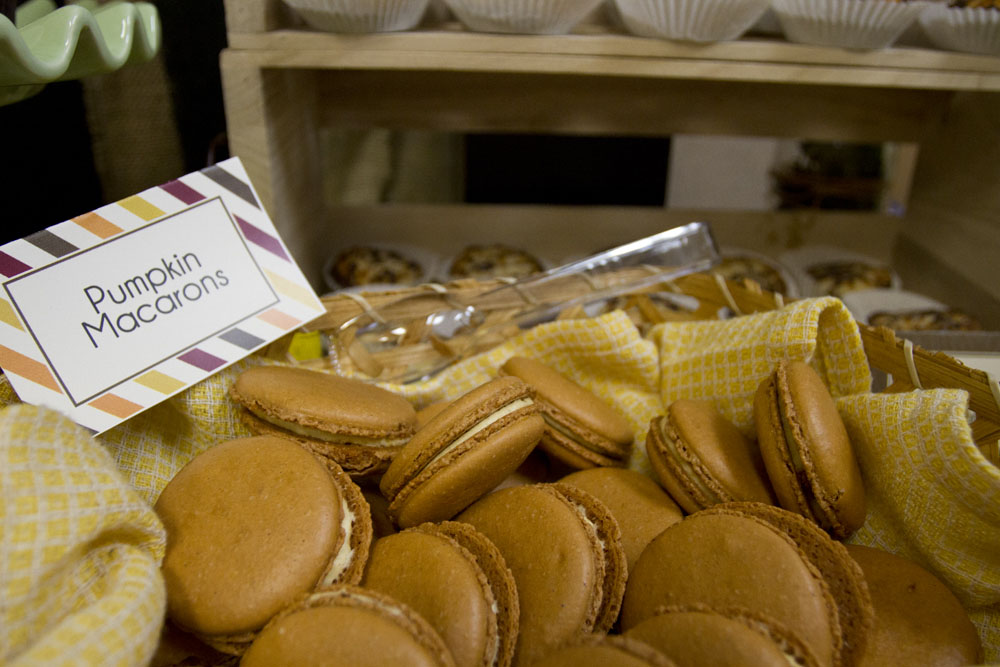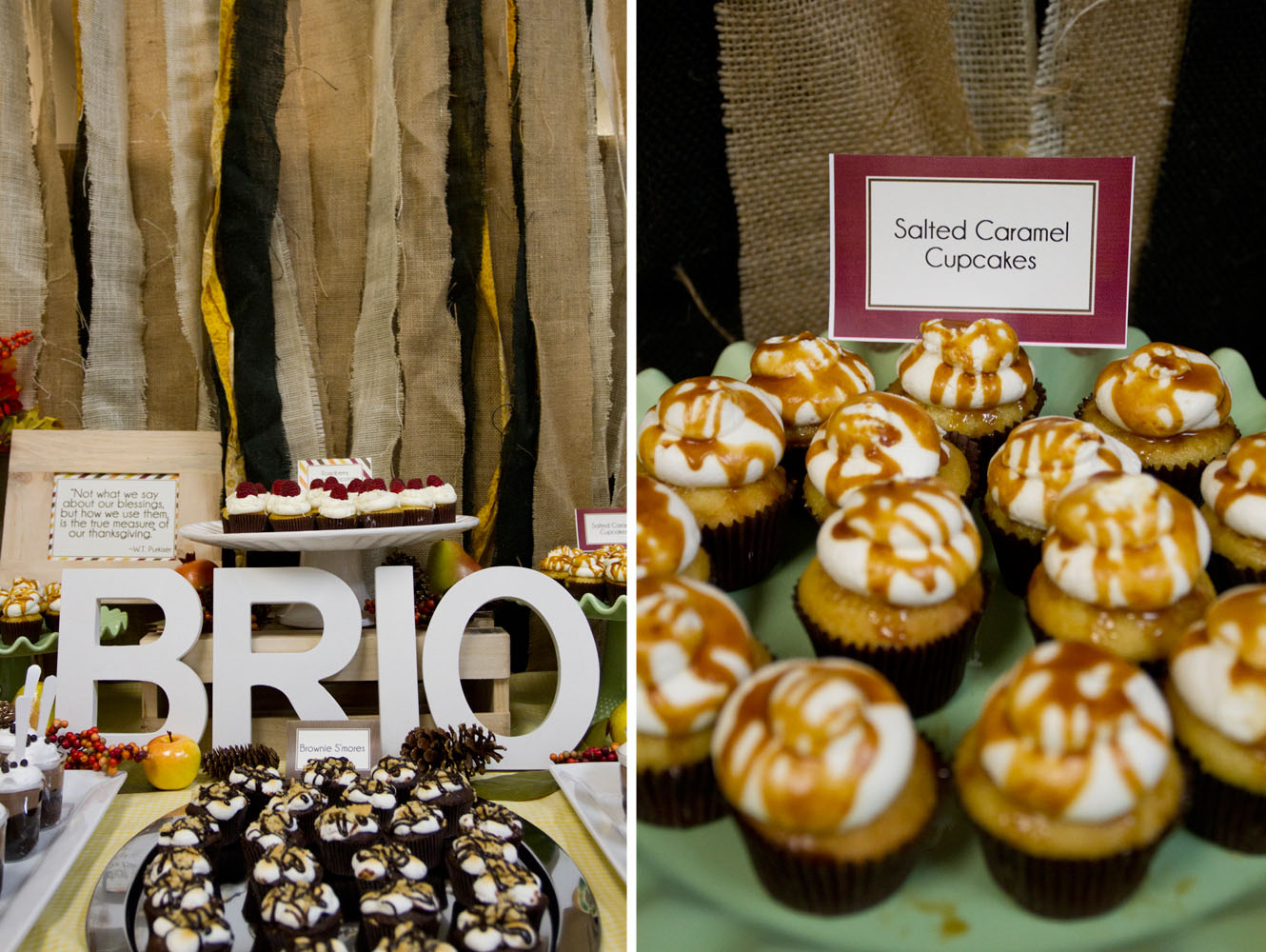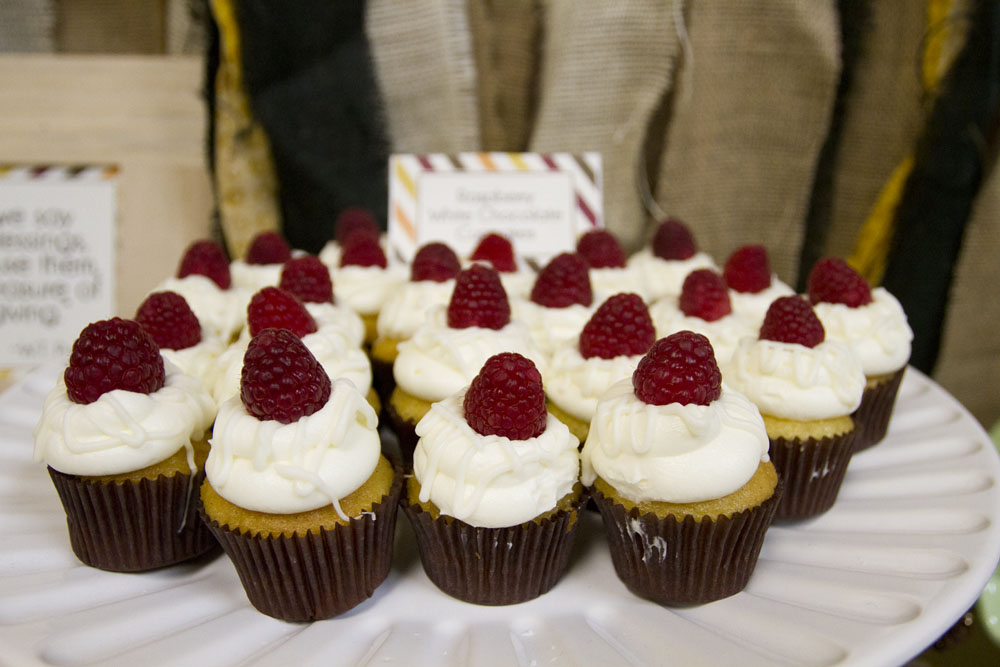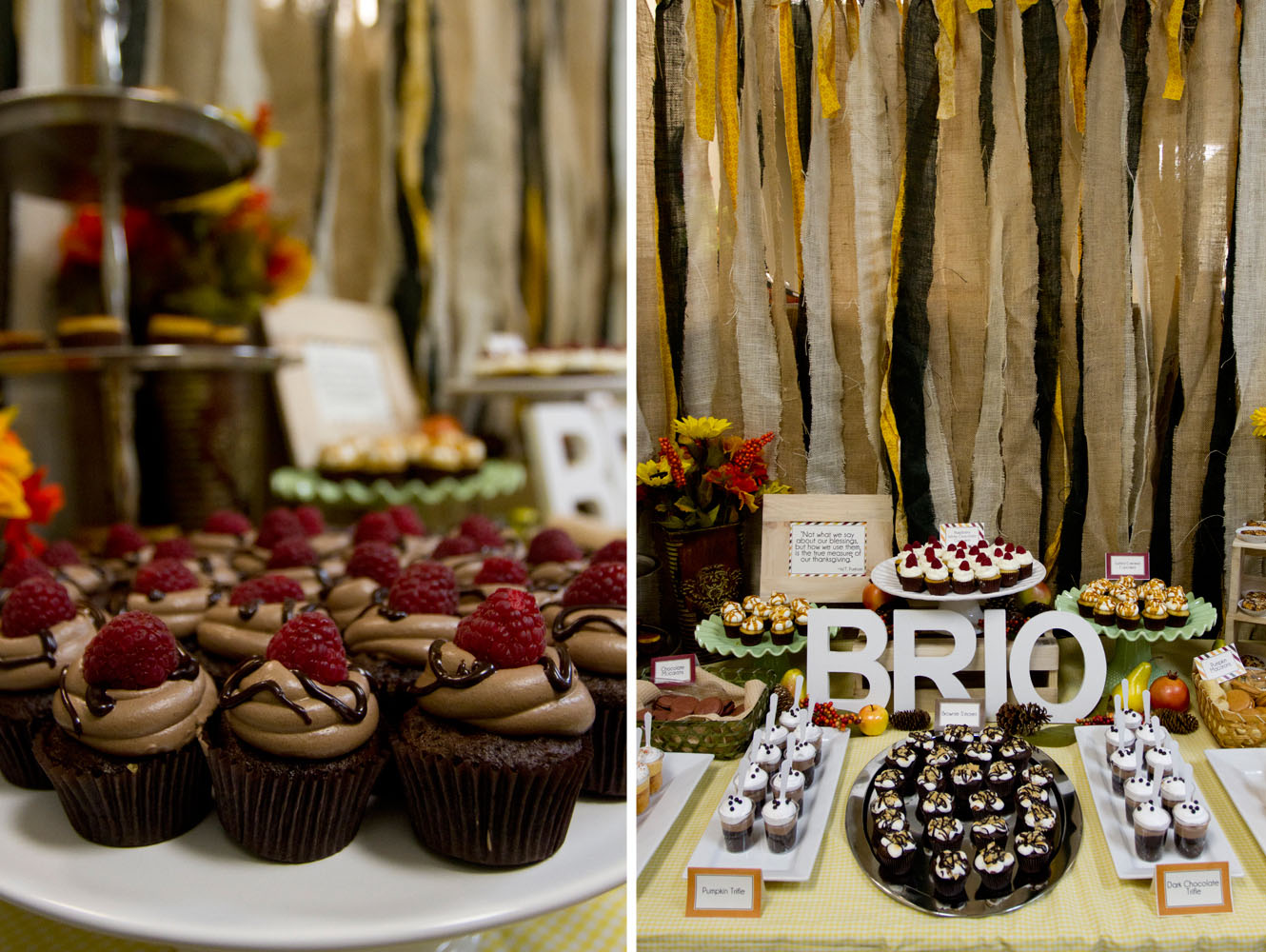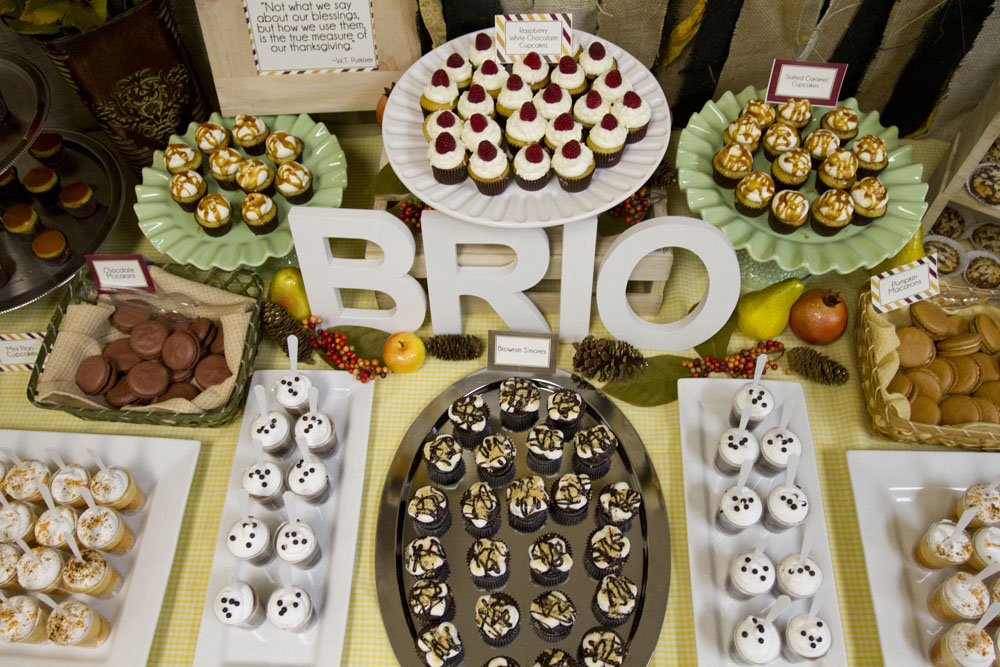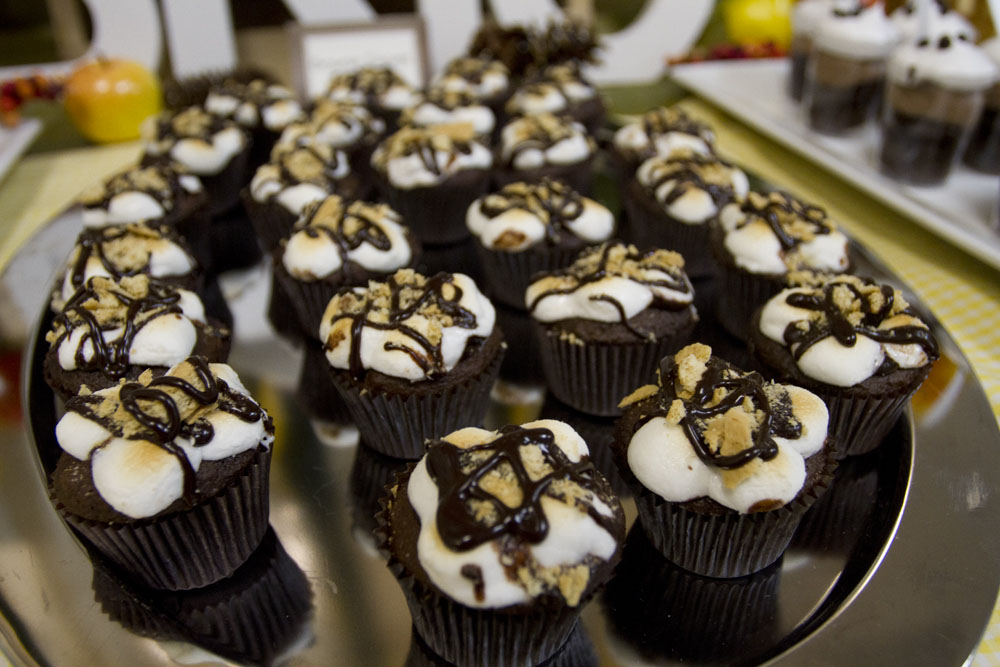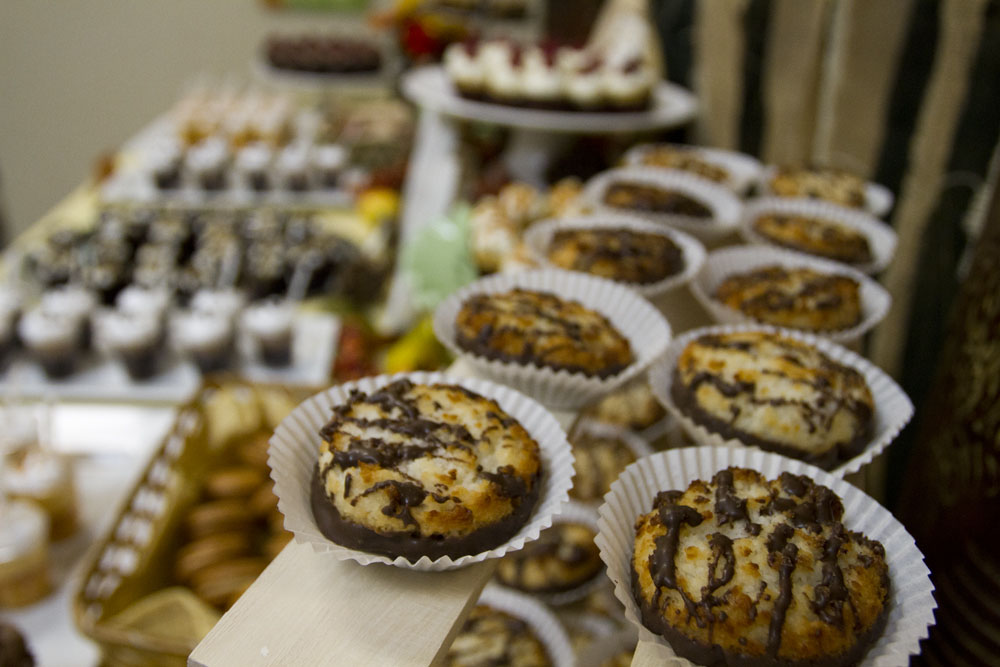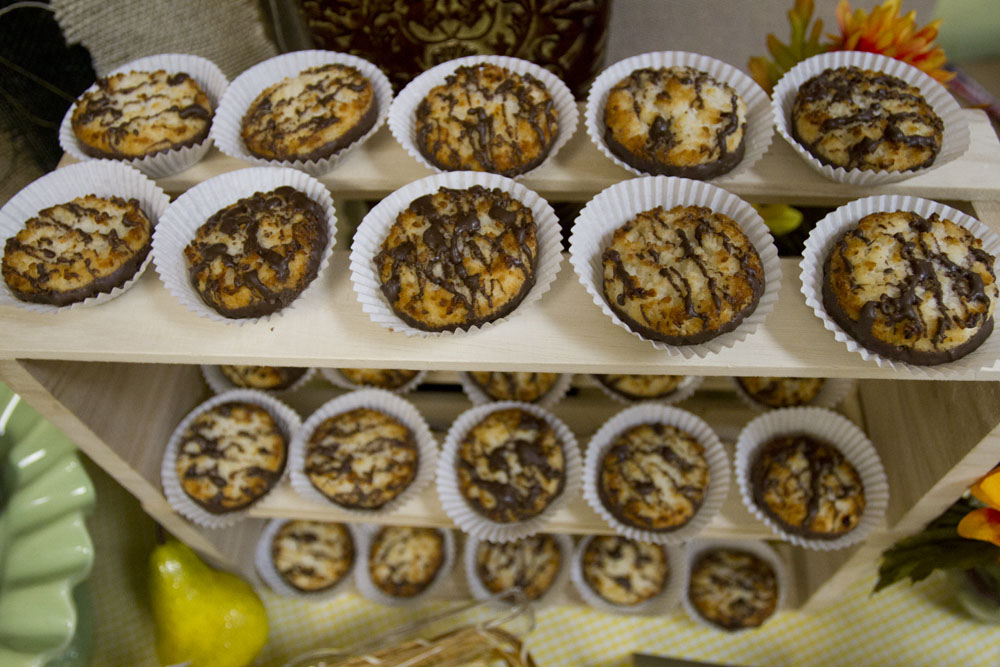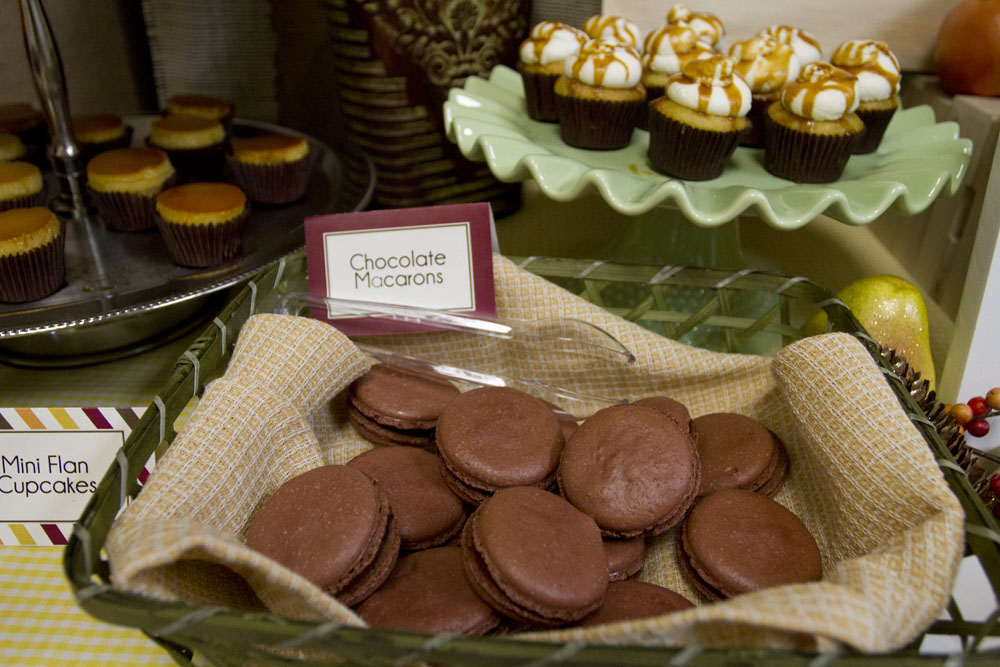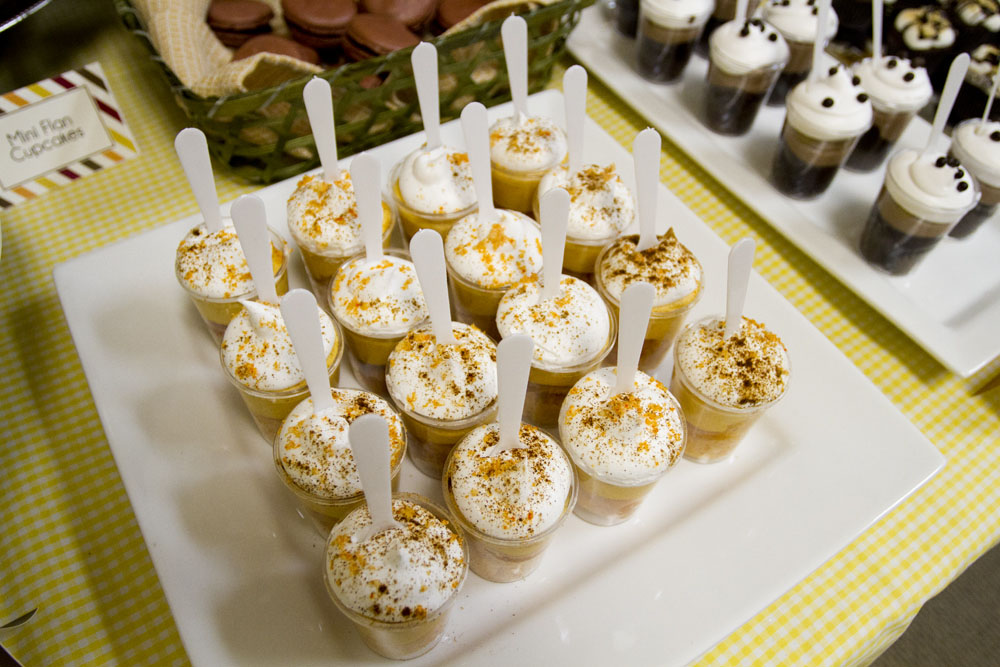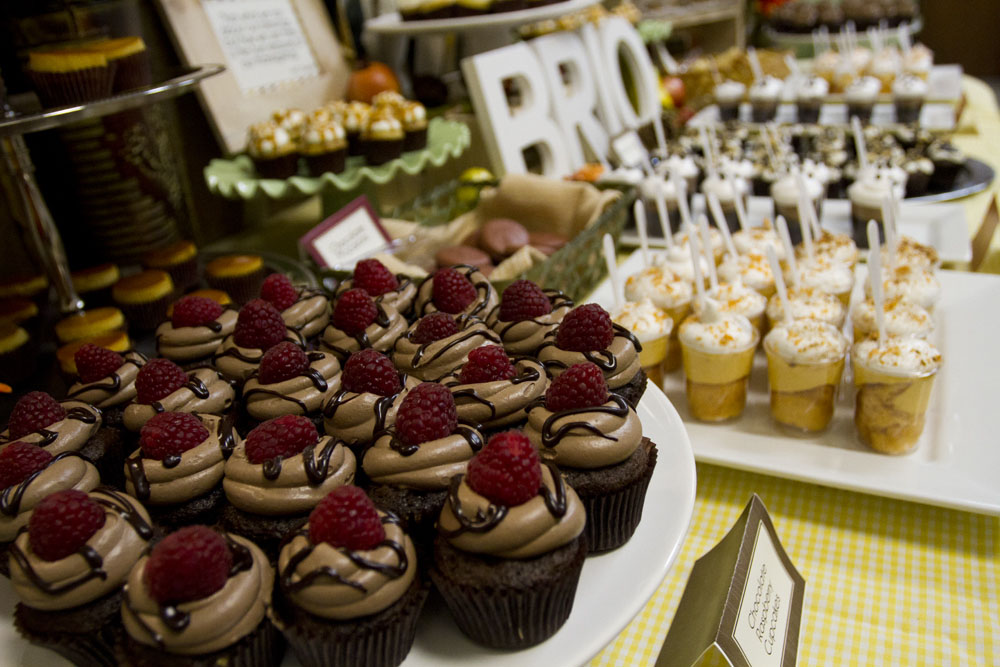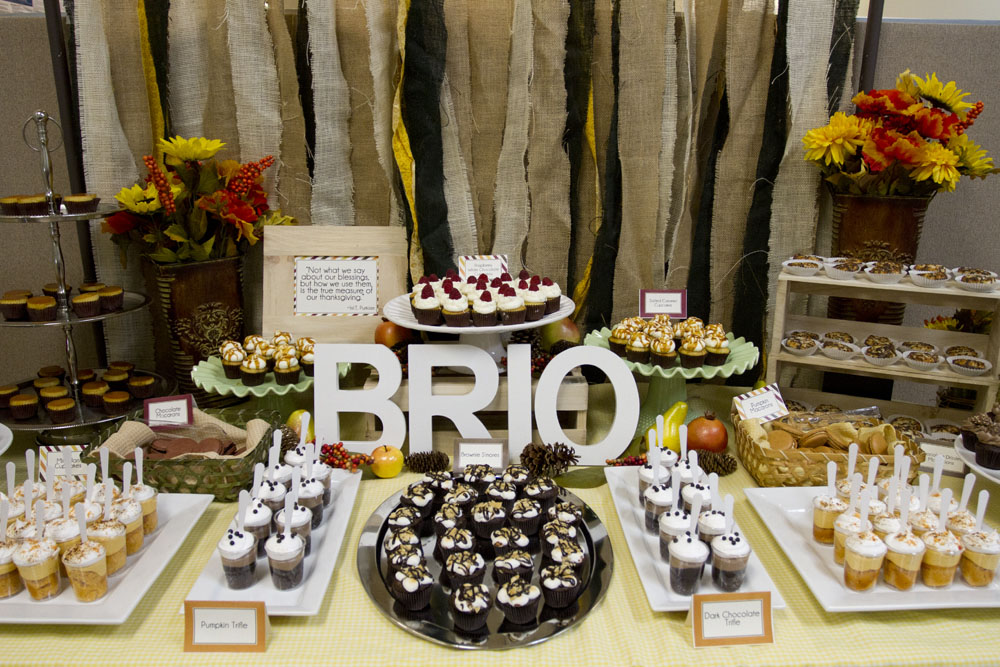 Our table was just one piece of a truly great party. BRIO hired a taco man which also served LA's famous dirty dogs (bacon wrapped hotdogs with onions, bell peppers, and all the fixings). Employee's and their families were invited to join in the festivities. BRIO paid close attention to their employee's children by handing out special treat bags and providing live entertainment. No one left this party empty handed. All employees were given a small token of appreciation and entered into the company raffle which included a TV among the many prizes.
Brio understands that it's the sharing of their blessings that is the true indicator of their thanksgiving. I hope all of us can apply that same wisdom in our own lives.
Let's all take a moment to give thanks for the blessings of the past year. Happy Thankgiving to all!!!
November 20, 2012
brownie s'mores, chocolate drizzled macaroon, chocolate macaron, company dessert table, dark chocolate raspberry cupcakes, dark chocolate trifle, fall inspired dessert table, ferrero rocher cupcakes, mini flan cupcakes, pumkin macaron, pumpkin trifle, raspberry white chocolate cupcakes, salted caramel cupcakes, thanksgiving dessert table