10 DIY Holiday Wreaths
---
What door would be complete during this time of the year without a beautiful holiday wreath to adorn it? Browse my top 10 favorite wreath ideas from around the web to get you inspired.
Winter Twig Wreath by Design Dining + Diapers

This rustic and modern wreath is perfect for my own décor theme this year. I love the bold contrast of colors, the modern lines, and unconventional take on the holiday wreath.
Jingle Bell Wreath by Love, Pomegranate House

"Jingle Bells, Jingle Bells, Jingle all the way!" One of the most popular Christmas songs can be played using this wreath. Grab some wire and a handful of little bells and you get an instrument and a holiday wreath.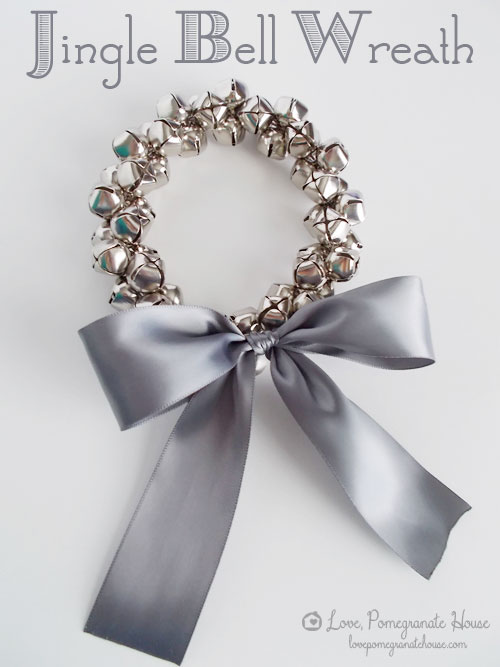 Christmas Card Wreath by Freelance Homeschool Mom

Ever wonder how to display your many Christmas & Photo Cards? Simply incorporate it into your wreath and it doubles as a décor piece and Christmas card display.
Ornament Wreath by The Cards We Drew

Do you have a bunch of extra ornaments lying around? They sure do accumulate over the years. This colorful and creative ornament wreath only requires a foam circle and glue gun. Squeeze it in between the letters "J" & "Y" and you've got a festive décor piece that will surely bring a smile to your guest's faces.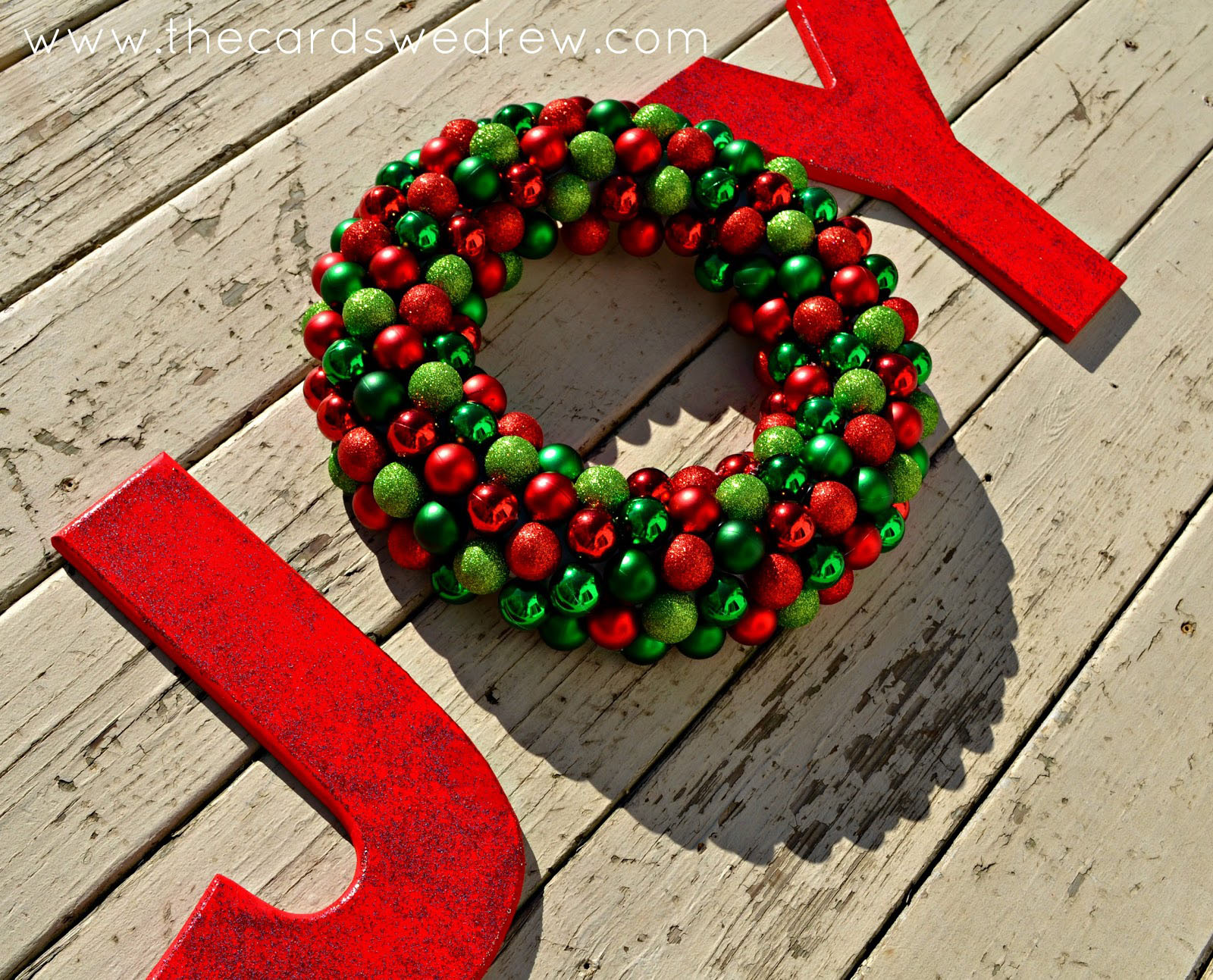 Yarn Wreath by Making Home Base

I love the choice of aqua and white for this crafty wreath. Grab some yarn, make a few rosette flowers, and a little bunting banner and you're all set.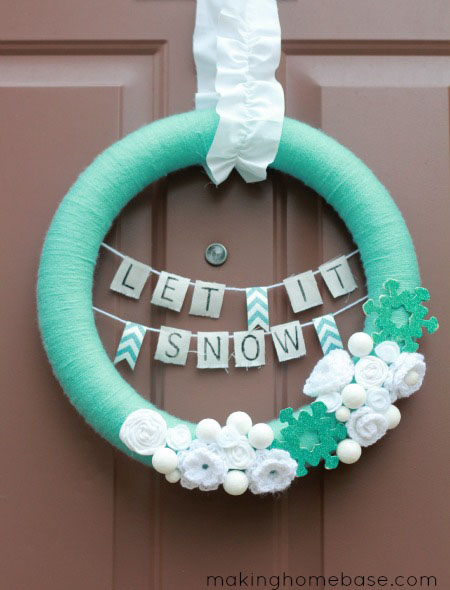 Framed Ornament Wreath by It's Overflowing

Similar to the Winter Twig Wreath but much easier to assemble. All you need is a frame (what household doesn't have one) and a few ornaments and string to put it together. Simple and modern, just the way I like it.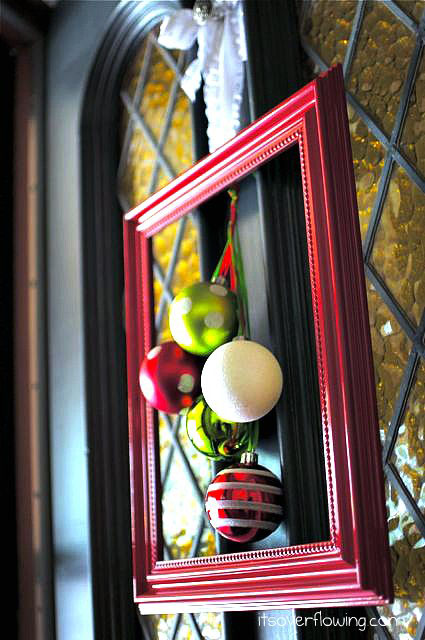 Monogrammed Ornament Wreath by C.R.A.F.T.

This wreath is perfect for the family that wants to personalize their Christmas décor. Ensure that your guests have arrived to the right house by placing your Family Monogram on the front door.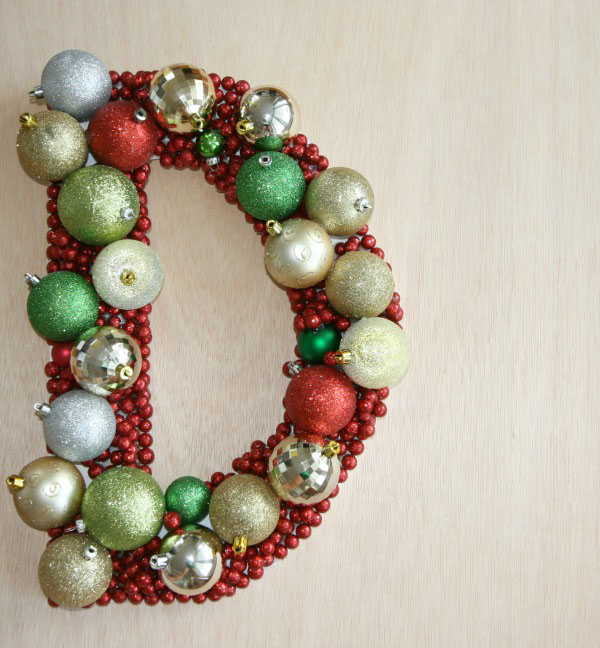 Hands Print Wreath by Sweet and Lovely Crafts

A wonderful project for the little ones in your home. Some paint and willing hands are all you in need to make these holiday wreaths. These can be hung in front of your children's bedroom doors to get them in the holiday mood.
Recently I was searching through CB2's idea book and came across an entire post dedicated to DIY Holiday Wreaths. Unfortunately it was recently taken down since their wire wreaths were so popular that they sold out! Thank goodness they have a blog post to showcases a few of their wreath style tips. You'll also find a very informative history lesson on the origins of the wreath.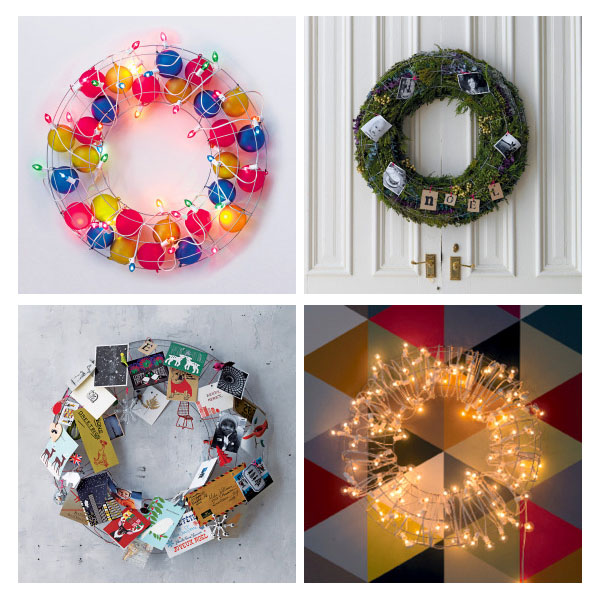 Chandelier Wreath by the Novogratz via CB2

I've seen several Chandelier Wreaths on the web but none was more inspiring to me than this Novagratz Chandelier Wreath. I practically begged my husband to let me hang one in the dining room but it was a battle I eventually lost. Take a wire wreath, fill it with greenery, add some lights and ornaments and hang! It's that simple and that gorgeous!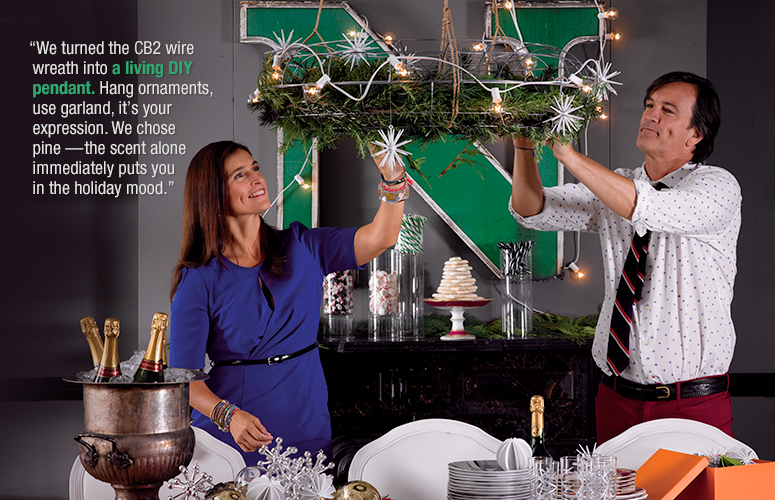 I hope one of these DIY wreath ideas have helped inspire you to get crafty and start decorating your home for the holidays! Nothing like a Christmas Wreath to get you in the holiday mood.