Rustic Modern Winter Inspiration
---
This post is certainly overdue. With all the family gatherings and catching the flu to distract me from blogging, I can finally share my home for the holidays. Christmas and 2012 may be long gone but I hope you can still find some inspiration for your upcoming winter parties.
My home decor for the holidays was inspired by this dinnerware set I came across in Home Goods. I love rustic modern design. I'm not a huge fan of the color red but it works perfectly as a subtle pop of color. It certainly gives you the feel of a cold blistering winter day.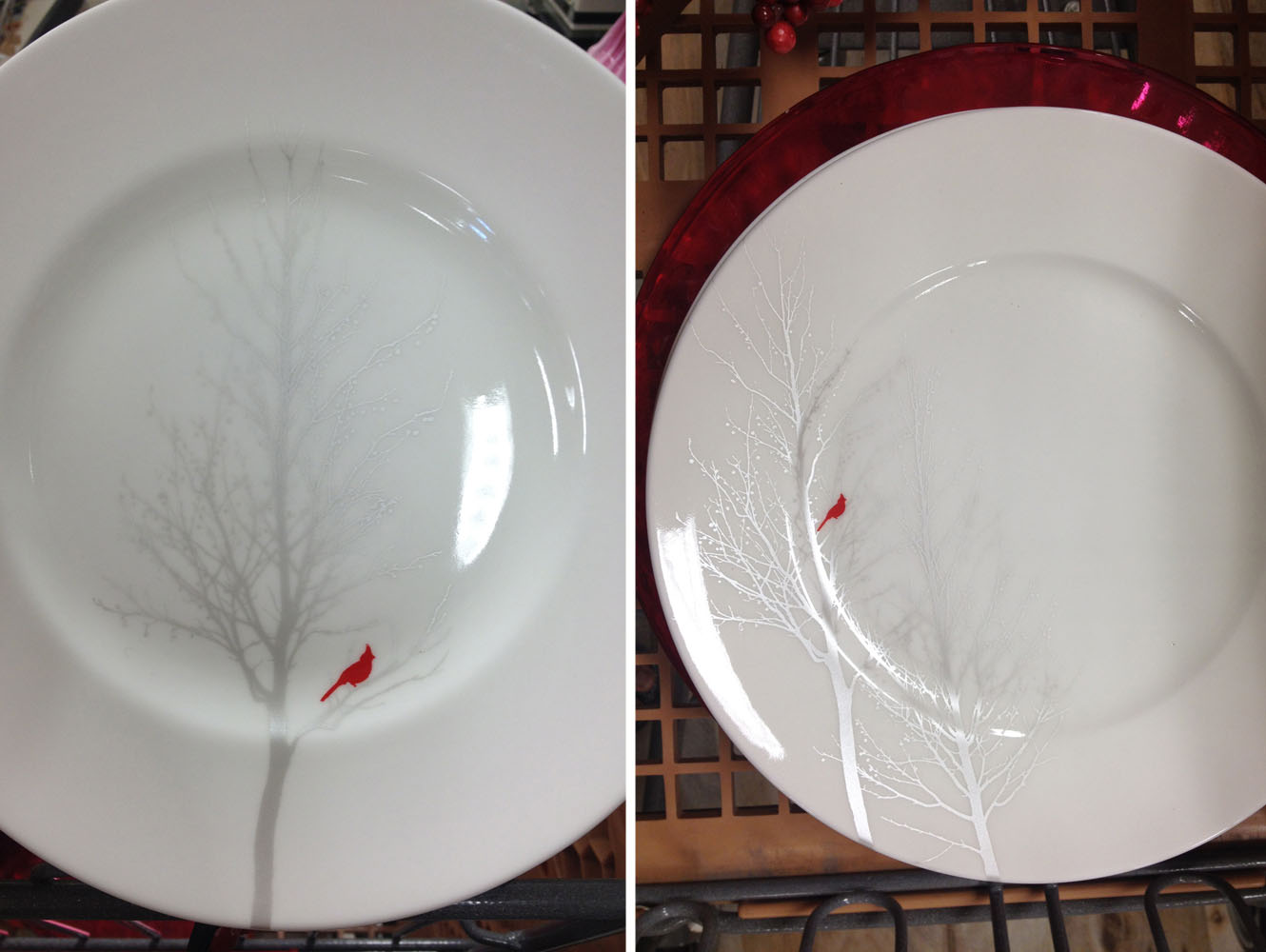 To start, I began with the Christmas Tree. The first year we had a tree, we decorated it with white and silver ornaments. To keep the decorating costs down, we select a pop of color to add on our christmas tree. Last year, I added a robin's egg blue satin ribbon. This year I simply added red ornaments for a little pop of color. We also asked our family to hang a special ornament for an added personal touch. So far, we have a drummer boy (the hubby), nerdy owl (myself), Honda Civic Hatchback, Starbucks Cup and a Ruby Red High Heel. Other areas of the house we decorated were the kitchen and entryway. Garlands were hung above the kitchen cabinets strung in lights with twigs, pine cones, and little yarn pom poms to incorporate our red theme.  The Entryway is my husband's corner. We usually have a Charlie Brown Christmas tree, (if you're wondering, yes he makes me watch the movie with him every year!), but this year we loaned it to a family member in need of a tree. Existing frames were wrapped in red & white striped Christmas wrapping, a wooden bowl of pine cones and branches topped with a wooden star, and a modern vase with red branches took up most of the entry table. My hubby's love for Star Wars is on display with 3 main characters dressed as Santa. We're still on the hunt for the last piece of the collection, R2D2.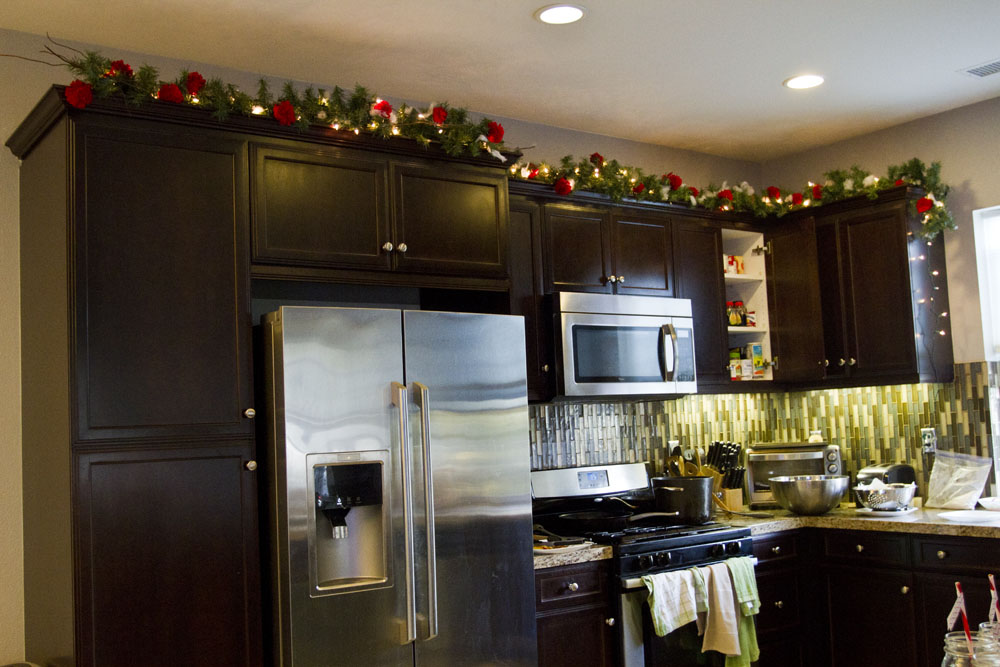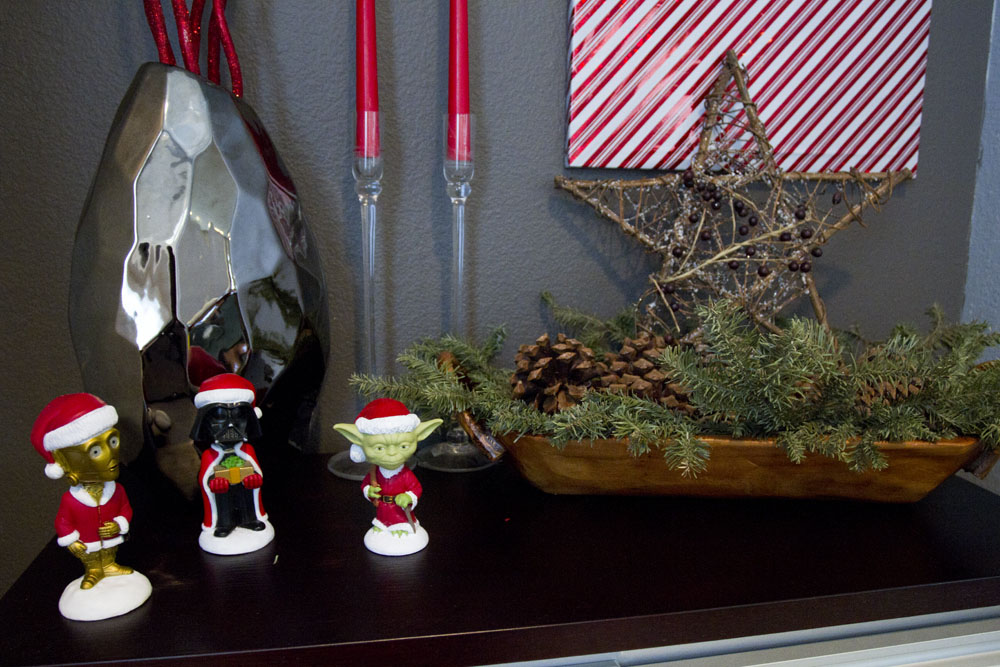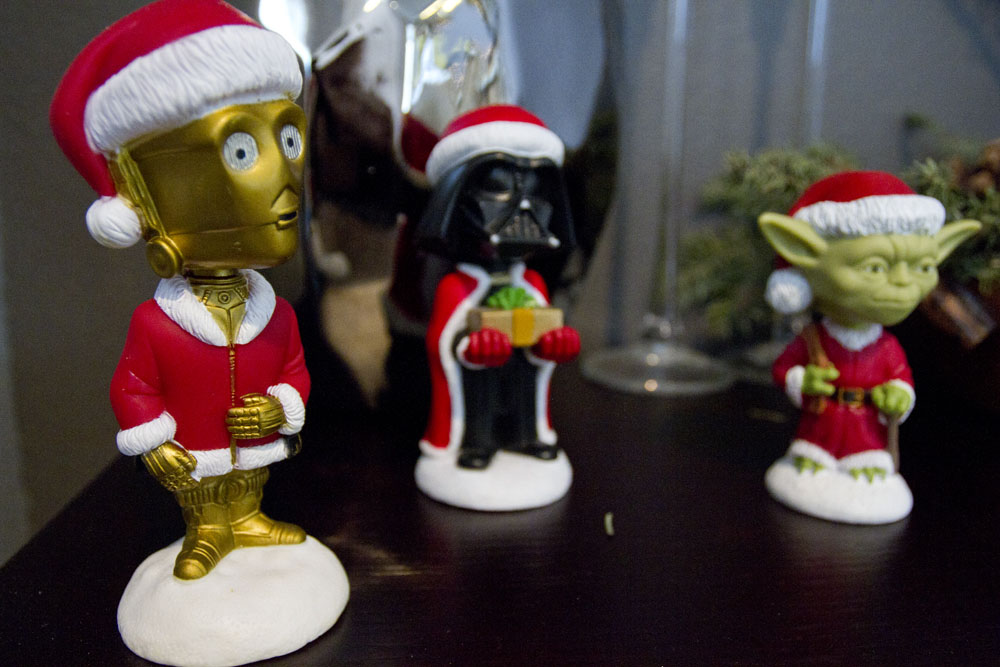 My favorite room in the house was the Dining Room. This space encompassed the theme I really wanted to incorporate into our house: A rustic modern Christmas. We recently purchased our first dining table set from West Elm.  Our previous dining table was on loan from my in-laws. It served us well for the past 4 years but finally we were able to infuse our own personal style to the dining room.  The dining table is made of reclaimed wood and the natural colors from the wood truly compliment the existing colors in our home. I wrapped a large frame with wrapping paper and added a red ribbon with a silver ornament as the focal point. Branches from my mom's backyard were hung and adorned with red birds. I love how the two Eucalyptus branches placed in the corner with a single red bird really captures the look and feel of the dinnerware from Home Goods.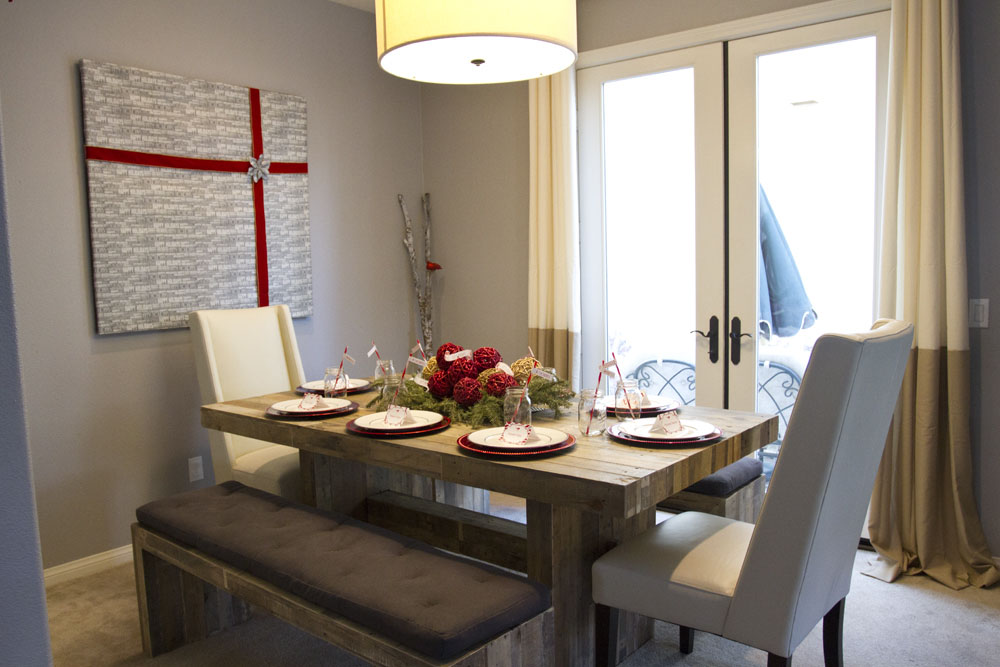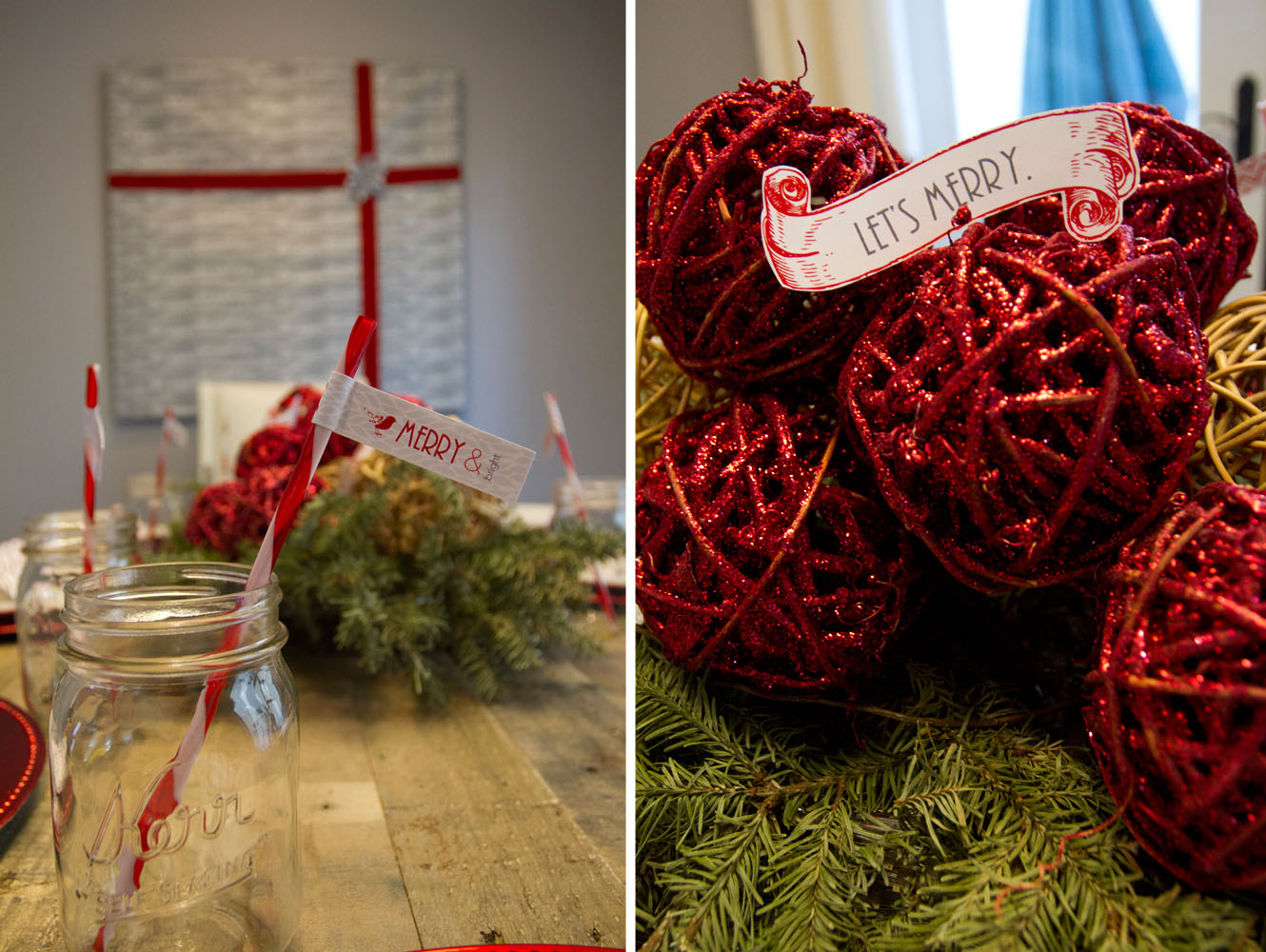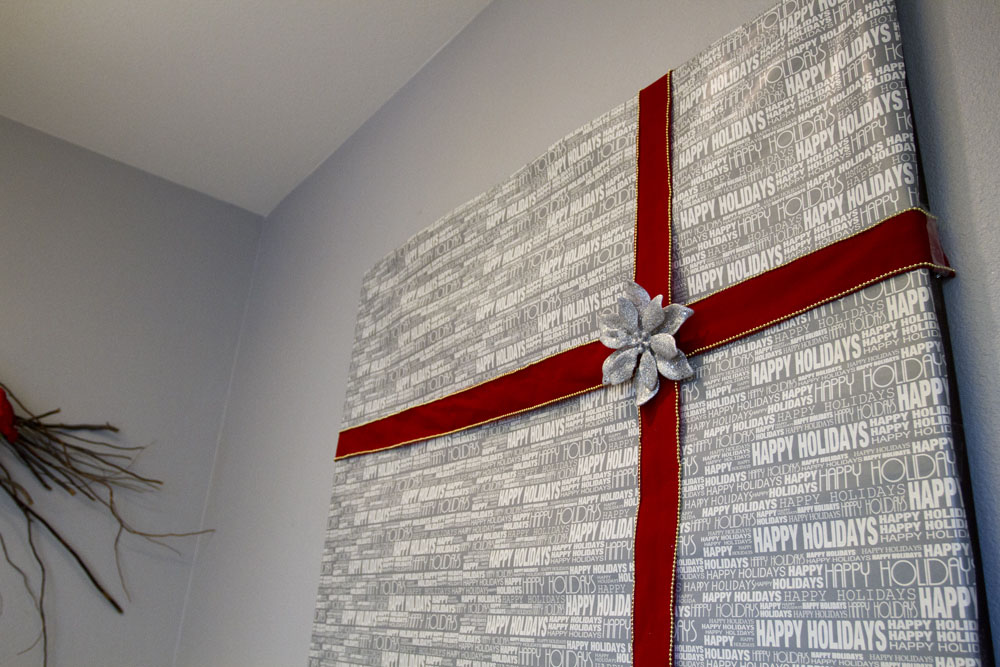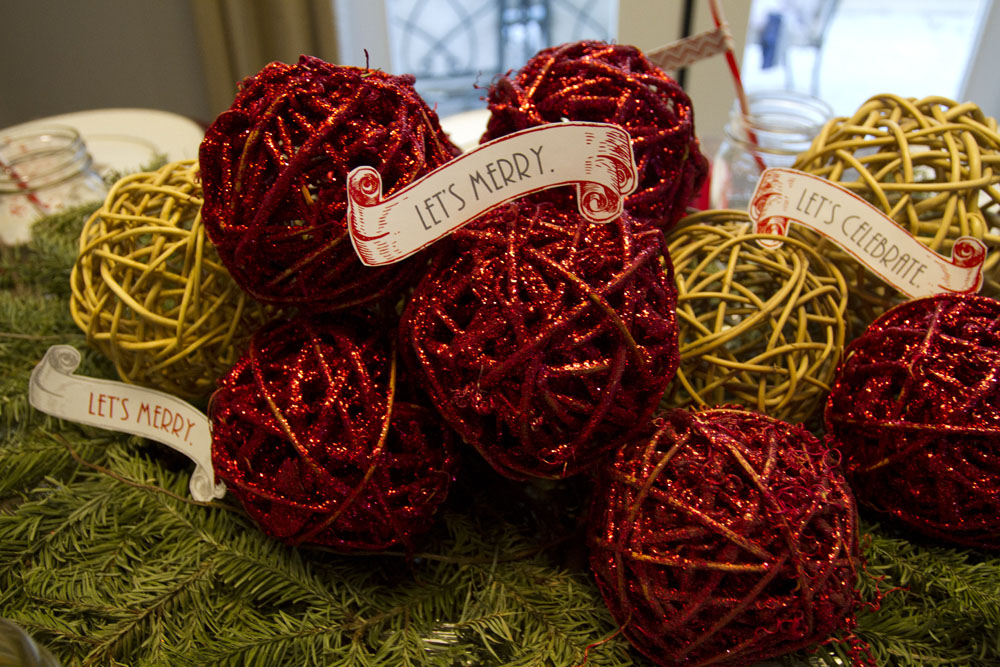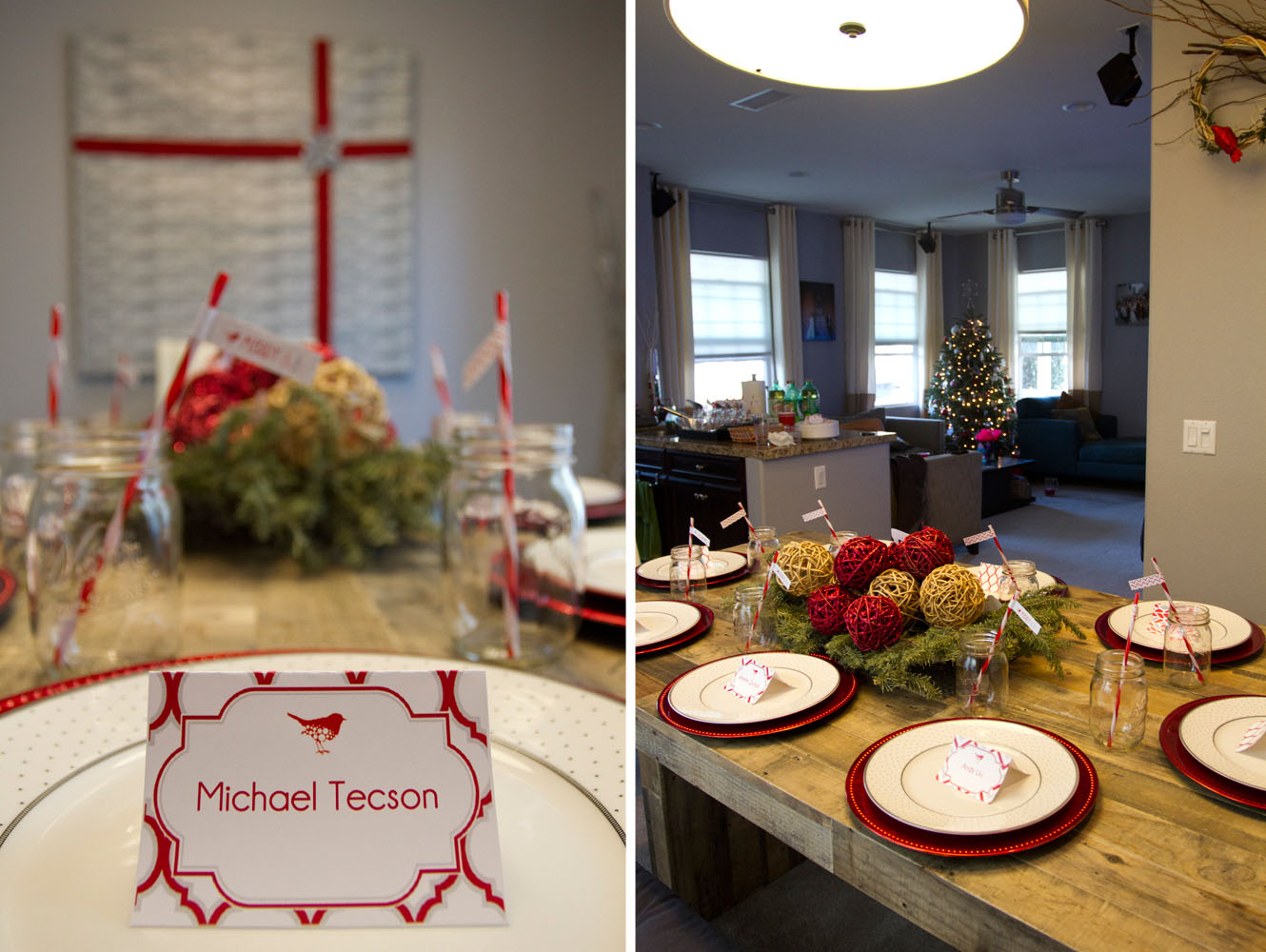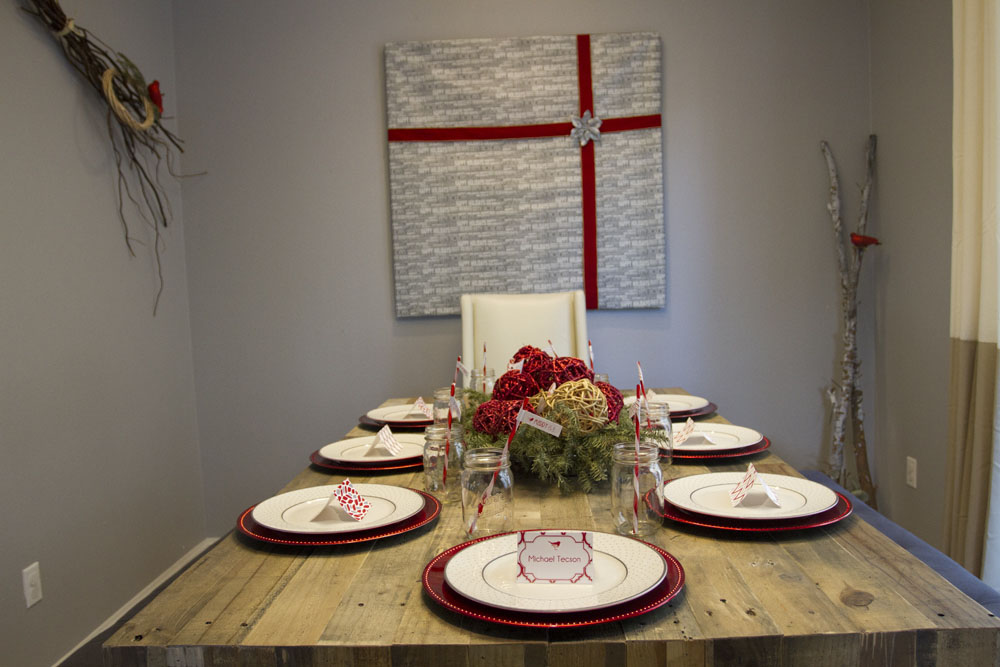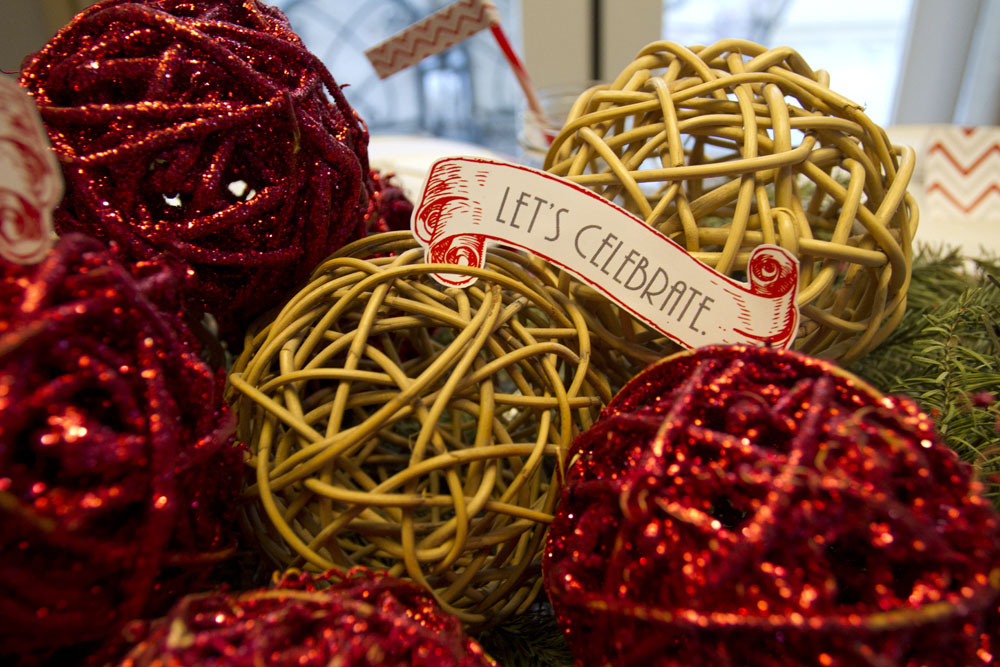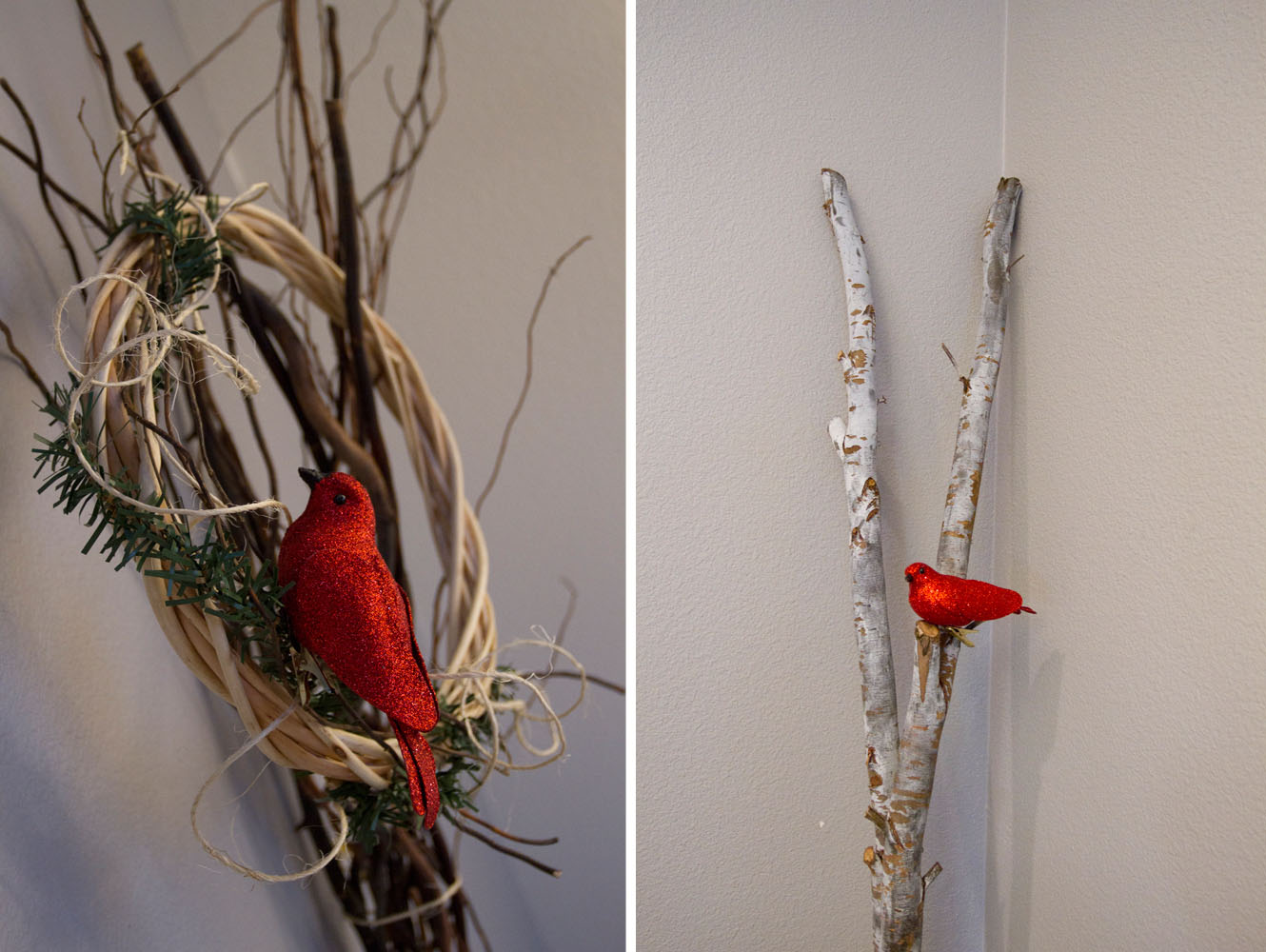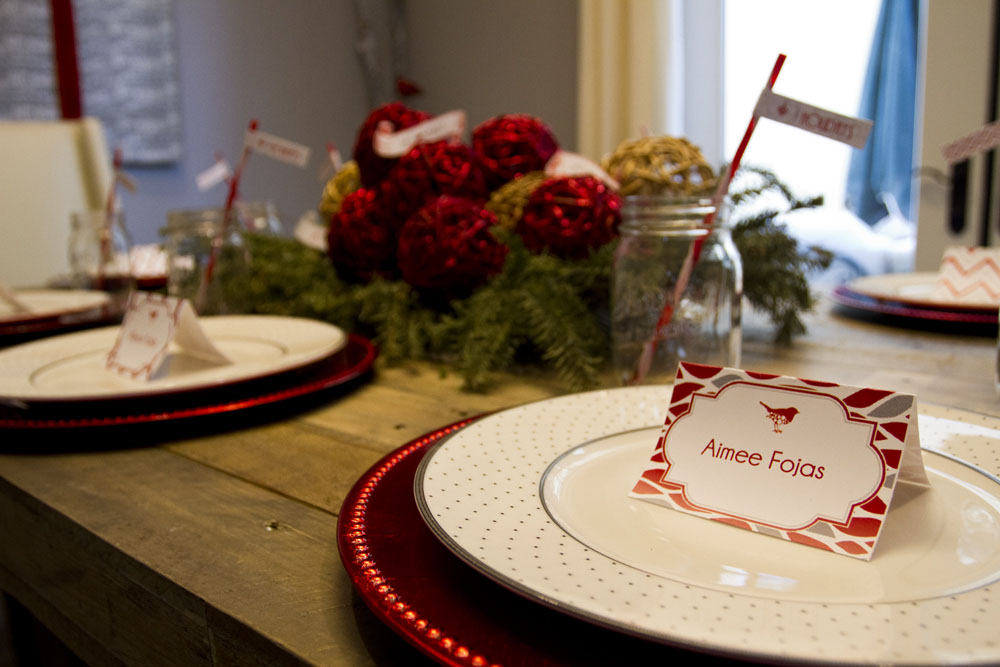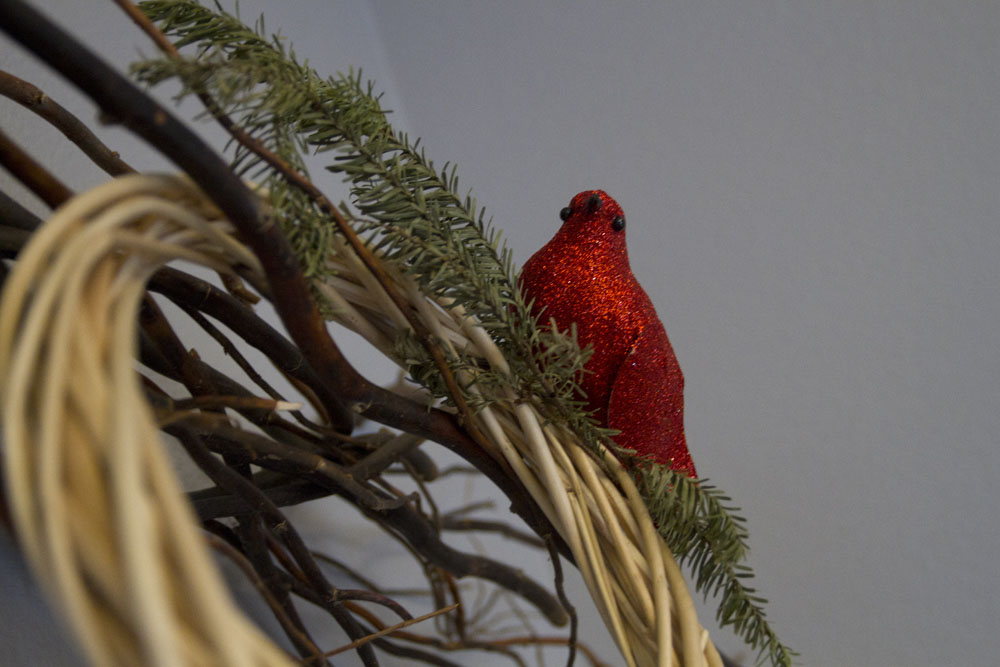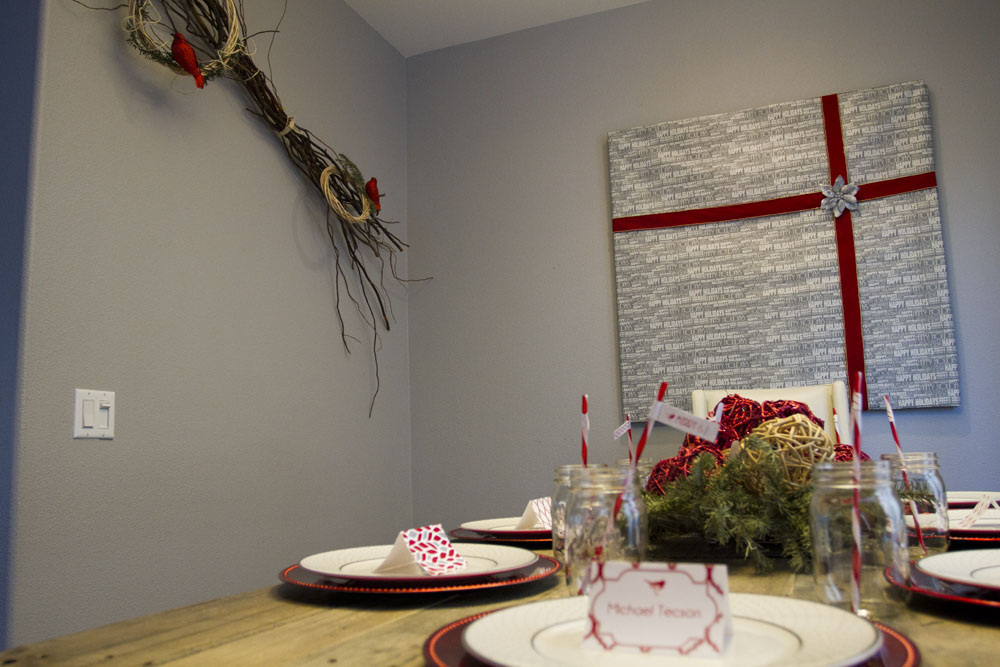 My home was definitely ready for some holiday fun. Check back for a post on my family's annual Christmas Sock Exchange.
*******
Dining Set: West Elm Emmerson Dining Table
Party Printables: Hostess with the Mostess